The Vietnam Dairy Products JSC (Vinamilk) has acquired more than 90 million shares in GTNFoods JSC to raise its ownership to 38.34 per cent.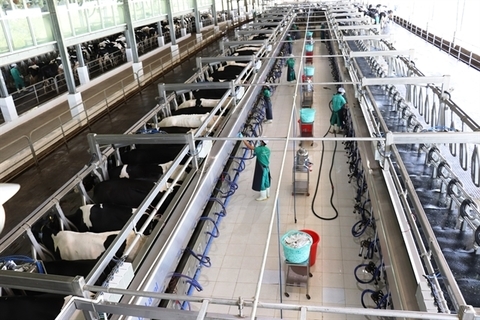 Photo shows Vinamilk's cattle farm in the southern province of Tay Ninh.
Vinamilk has increased its ownership in GTNFoods to 95.8 million shares from nearly 5.8 million shares or 2.32 per cent of GTNFoods' capital.
On April 11, Vinamilk offered to buy 116.7 million GTNFoods shares in order to expand its ownership to 49 per cent for VND13,000 (US$0.56) per share between April 22 and May 22.
Most of the shares belonged to foreign shareholders, cafef.vn reported. As of June 5, foreign investors had cut their stakes in GTNFoods to nearly 4 per cent from the previous 35 per cent.
The companies are listed on the Ho Chi Minh Stock Exchange as VNM and GTN.
Since Vinamilk's offer on April 11, GTNFoods shares have gained nearly 22 per cent, ending Thursday at VND19,500.
On the contrary, Vinamilk's shares have dropped 5.4 per cent in the same period to finish Thursday at VND126,500 per share.
If Vinamilk had purchased all 116.7 million shares, it would have increased its holding in GTNFoods to 49 per cent and taken control of the company and acquire its dairy production unit Moc Chau Milk.
According to Vinamilk CEO Mai Kieu Lien, the acquisition deal would make the firm a tough business that would not be broken down by domestic or foreign competitors. — VNS