Virtual telecom carriers have a great opportunity to gain a foothold in Viet Nam's market thanks to the country's open regulatory environment and young and tech-savvy population.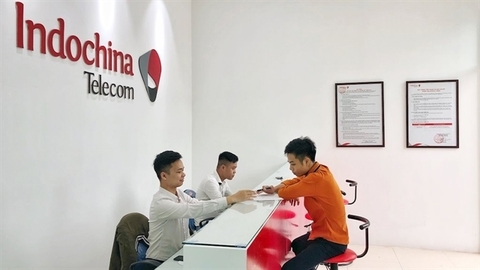 A man subscribes for mobile services at an Indochina Telecom office. — Photo didong.itelecom.vn
Viet Nam is one of the youngest mobile virtual network operator (MVNO) markets in the world, with the first virtual operator launched in April this year.
A virtual network operator does not own network infrastructure, instead it purchases telecommunication services from traditional mobile network operators (MNO) and resells network services after repackaging at lower prices.
The pioneering Indochina Telecom Company (ITelecom) has entered into an agreement with Vinaphone, a mobile subsidiary of State-owned telecom VNPT, which allows it access to the company's network services and offer its own.
The pre-fix of its mobile service is 087.
According to the Ministry of Information and Communications (MIC), a legal framework had been established for virtual telecommunication networks.
Following ITelecom, the ministry has granted a licence to Mobicast Joint Stock Company. Mobicast is currently preparing to launch.
Both companies have registered to provide basic, value-added telecommunications services which are similar to those of traditional carriers.
"The MVNO model will help save investment costs for businesses and a avoid waste of social resources when unused traffic and infrastructure of MNOs can be exploited by carriers that do not have their own infrastructure," Nguyen Phong Nha, deputy general director of the MIC's Authority of Telecommunications, told Viet Nam News.
In Viet Nam, the Law on Telecommunications 2009 and Decree 25 dated in April 2011 showed telecom companies how to establish MVNOs and provide telecom services through obtaining bulk access to networks wholesale rates and then setting retail prices independently.
"In the near future, the launch of a 5G network with low latency, extremely high speed or equipment density per kilometre will open up many opportunities for businesses to provide mobile services without investing in network infrastructure," Nha said.
Telecom industry website telecoms.com has put Viet Nam in the watch list for impressive growth drivers for MVNOs in the Asia-Pacific region, along with China, Australia, Singapore and Japan.
Viet Nam has the advantages of a young, tech-savvy population with a high rate of smartphone penetration backed up by a fast, extensive 4G network. The country has plans to launch 5G, with Viettel and MobiFone having already provided a pilot 5G network in HCM City.
5G, together with the rapid development of the Internet of Things (IoT), e-SIM and soft-SIM, bodes well for hopeful MVNOs.
Foreign mobile carriers have reported to be eyeing the Vietnamese market. At the MVNOs World Congress in Amsterdam in May this year, Malaysia's redONE said it had plans to expand to Thailand and Viet Nam this October.
Viet Nam News could not reach redONE for confirmation.
At the MVNOs Asia 2019 which was held in Viet Nam for the first time last week, some foreign companies expressed their interest in the MVNO sector in Viet Nam, wanting to seek partnerships to jointly develop this sector.
MVNO is a fledgling market
Even in China it was only last year that it started completing the commercialisation of virtual telecom operators after a five-year pilot scheme, with licences issued for 15 virtual telecom operators including big names such as Alibaba, Xiaomi and JD. Virtual telecoms have attracted about 5 per cent of the total market of 1.2 billion mobile subscriptions.
In Viet Nam, according to Nha, the mobile telecommunications market had reached a saturated point with the dominant presence of veteran MNOs including Viettel and VNPT (through Vinaphone and MobiFone), so it will be very hard for MVNOs to compete with these giants.
"As MVNOs don't own infrastructure but have to lease it from MNOs, they will be under pressure in negotiating contracts with them. MVNOs need to select specific services that do not compete directly with traditional MNOs," Nha said.
For example, ITelecom has focused its initial service offerings on industrial workers in nine provinces and cities with low cost packages. — VNS

The first mobile virtual network operator (MVNO) has been providing service for three months, and more MVNOs are expected to be launched. However, experts believe that it will be difficult to succeed in current conditions.

The Government is working on a policy to tighten the management of virtual currency and assets, heard a workshop in Hanoi on August 16.