National flag carrier Vietnam Airlines (VNA) wants to adopt policies to raise the salaries of its pilots and other high-level staff to stop the ongoing brain drain, said Duong Tri Thanh, general director of VNA.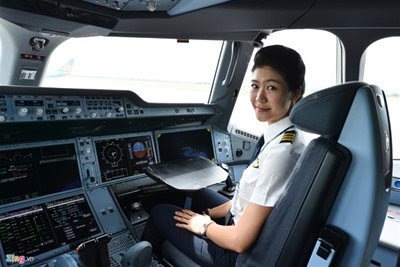 A Vietnam Airlines pilot is seen inside the cockpit of an aircraft. Vietnam Airlines wants to actively regulate salary bands to attract and retain highly skilled personnel 
Thanh made the proposal at a meeting between Prime Minister Nguyen Xuan Phuc and more than 1,000 highly skilled employees, held on May 5 in HCMC.
The carrier presently faces a severe brain drain in terms of pilots, who left VNA to work for newly founded carriers on the local aviation market that offered them a more attractive salary.
In addition, data from the Civil Aviation Authority of Vietnam indicated that the local aviation sector is in need of some 200 pilots annually from now until 2030, and VNA has yet to meet this demand even though it has been working hard on training manpower.
Accordingly, Thanh suggested VNA increase the salaries of pilots and highly skilled technicians and engineers to retain them. To do so, he proposed further adjustments and specific new regulations to be added to the Labor Law as well as revising the prevailing aviation regulations, allowing local carriers to compete fairly.
Systems for corporate salary management should be revised to enable local firms to actively map out more appropriate policies on salary to retain high-quality employees.
In addition, the Government should issue regulations on fleet expansion plans for each carrier, which must be on par with the country's infrastructure development and manpower training demand, said Thanh.
VNA pilots have quit in droves since last year, even though VNA raised their salaries in June 2018.
Up to 400 VNA pilots quit during the 2015-2018 period, including 114 Vietnamese who account for 10% of VNA's total number of pilots.
VNA pilots had earlier moved to local low-cost carrier Vietjet, and now, pilots from both carriers have switched to Bamboo Airways, the country's newest airline. VNA pilots were even asked to join the platforms of foreign airlines in Southeast Asia and China with lucrative job offers.
VNA pilots are paid an average of VND132 million per month, lower than the VND180 million offered by Vietjet and some VND200 million per month offered by Bamboo Airways.
The head of VNA added that some airlines would willingly offer higher salaries to attract up to 30% of VNA's pilots.
Currently operating two of the most modern aircraft in the world, the Airbus 350 and B787, VNA considers Vietnamese pilots to be its key personnel. However, its pilots who are in charge of B787 aircraft have moved to other local and foreign carriers, which are also enhancing their fleets and competing seriously. SGT