Competition in the country's credit card market has become stiff as more and more foreign and domestic banks as well as finance companies are competing to gain market shares.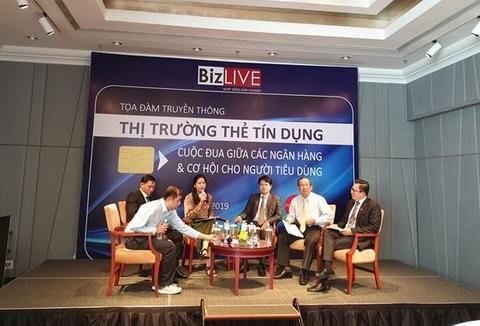 Nguyen Hoang Minh, deputy director of the State Bank of Viet Nam Branch in HCM City, speaking at a seminar on online payments, says the biggest advantage of non-cash payments are time savings, no transportation fees, and safer transactions.
Credit cards are expected to grow as more than 70 per cent of the population are young and the country has the fastest growth in both income and spending in the region. Internet retail is also growing.
Young consumers are quicker to adapt to new payment methods and are making the switch from cash to card transactions.
Nguyen Hoang Minh, deputy director of the State Bank of Viet Nam's branch in HCM City, said at a seminar on online payments that the biggest advantages were the economic benefits, including time savings, no transportation fees, and safer transactions.
With credit cards, customers can borrow money without interest payment for 45 days.
The country's credit and debit card market is divided mostly among big domestic banks such as Vietcombank, BIDV, VietinBank, Sacombank and Techcombank. As of the end of last year, Vietcombank held the leading position.
However, experts forecast that change is on the horizon as the market has seen more players, including Vietnamese and foreign finance companies, foreign banks and medium-sized Vietnamese banks as well.
Shinhan Bank, for example, is set to become one of the top three credit card issuers in Viet Nam for the next three years, while FE Credit and Home Credit, the country's two leading consumer finance companies, are also stepping up credit card offers with many incentives and promotions.
To lure more customers, banks have offered several attractive promotions and incentives such as low fees, refunds at shopping centres, and gifts.
Some bank card issuers understand the barriers for consumers, such as late payment penalty so they have extended the time limit for free interest rates to 55 days from the 45 days.
The card issuers have also simplified procedures for opening a card, and have provided online and at-home services to lure customers.
By the end of the third quarter of last year, as many as 4.6 million credit cards were issued in the country with total trading value reaching about VND50 trillion, up by 50 per cent over the same period of 2017. — VNS

Both domestic and foreign banks are offering preferential programmes to lure more credit card holders to compete for a larger market and a piece of the high profits generated by the credit card segment.  

Replacing magnetic strip cards with chip cards is expected to resolve the long-going security issues affecting bank cards, resulting in loss of money and personal data leaks in banks.  

The Vietnam Bank Card Association, in collaboration with the National Payment Corporation of Vietnam (NAPAS) and seven commercial banks, launched the first domestic chip cards on May 28.