During the COVID-19 pandemic, some local banks, insurers and firms have worked together to help further protect the community with different anti-coronavirus packages.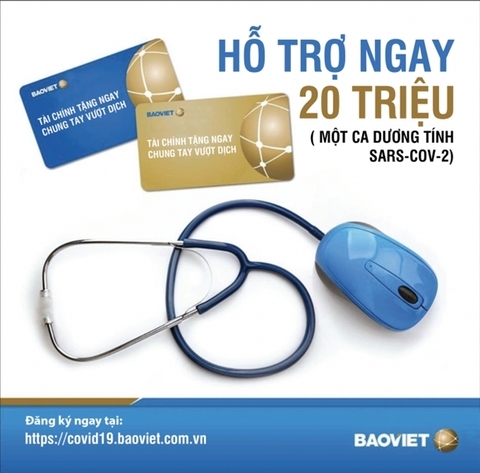 Bao Viet Insurance Firm gives one million COVID-19 insurance packages to help the community. — Photo courtesy of Bao Viet
Since March 16, state-owned Bao Viet Insurance Firm provided financial support of VND20 million (US$860) for each SARS-CoV-2 positive case for the first one million Vietnamese citizens between aged 18 and 70 years old.
The insurance beneficiaries are people who are at least residing in Viet Nam for twelve months with truthful medical declarations, complying with the Government's regulations on pandemic prevention and quarantined methods and not infected with SARS-CoV-2 virus at the time they registered for the insurance.
The protection period was one month from the date of registration and time of registration was from March 16 to April 15.
The protection programme will be effective for those who test positive for SARS-CoV-2 by a medical facility. The firm will pay the financial support via Baoviet Pay e-wallet.
Together with Bao Viet, Sai Gon – Ha Noi Bank (SHB) started giving its individual customers who borrow or deposit at the bank nationwide the "nCoV Shield Insurance" package from March 16 until May 31, 2020.
Those customers who borrow or deposit from VND500 million at least a year or from VND1 billion in at least six months will be given an insurance package with benefits up to VND100 million. The package will also provide beneficiaries with VND100,000 each day in case of in-patient treatment.
In HCM City, Minh Bao Tin Investment Joint Stock Corporation, a private firm in the fashion industry also signed deals with the insurer firm of Military Insurance Joint Stock Company on March 16 for thousands of insurance packages which will be donated to the firm's consumers and staff in more than 100 stores of Biluxury men's fashion nationwide.
On the morning of March 17, 14 local banks awarded VND120 billion to support the local prevention of COVID-19 and to help people suffering from drought and saline intrusion across Viet Nam. — VNS

Local enterprises have urged the Government to soon activate support policies to help them overcome difficulties in production and business due to the novel coronavirus (COVID-19) pandemic.

Support packages from the Government and banks would contribute to partly reducing difficulties for enterprises affected by COVID-19, but stronger measures should be taken for the hardest-hit industries, experts said.