The State Bank of Vietnam is ready to sell foreign currency to stabilize the forex market in the wake of the sharp strengthening of the greenback against the Vietnamese dong recently.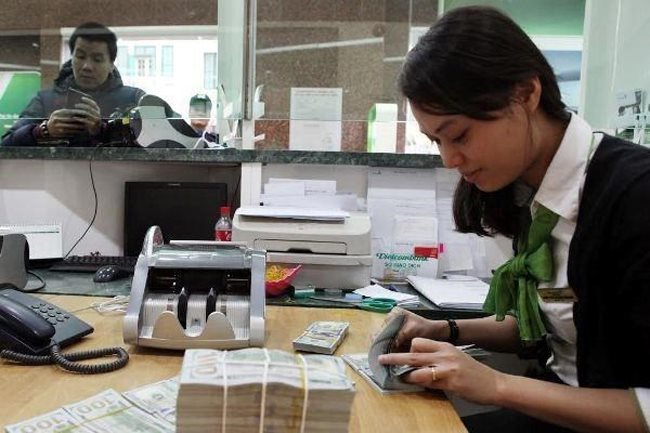 A bank staff is seen counting U.S. banknotes. The State Bank of Vietnam said it is ready to intervene in the forex market
Having watched the forex rate developments over the last few days, the central bank today, May 21, confirmed that liquidity on the local market remained normal, with supply and demand balanced.
In recent days, the greenback has appreciated strongly due to concerns over the escalating trade war between the United States and China. In addition, the Chinese yuan has continued to fall since the end of April, negatively affecting the sentiments of investors in the domestic forex market and sending the dollar soaring.
In the coming days, the central bank will continue watching developments at home and abroad and will regulate the central reference rate between the dong and the greenback flexibly as well as apply measures and monetary policies to stabilize the forex market.
If necessary, the central bank is ready to sell foreign currencies to intervene in the market, thereby stabilizing the macroeconomy, Ha was quoted by the local media as saying.
Commenting on the exchange rate and the forex market in early 2019, Ha noted that after the SBV quoted the greenback buying price at VND23,200 per dollar on January 2, the exchange rate remained stabilized by the middle of April.
Due to favorable developments on the global financial market and stable market sentiment, the nation saw plentiful foreign currency supplies during the period. Therefore, SBV was able to buy a large volume of foreign currencies to raise its foreign reserves and strengthen its capability to intervene in the market if necessary.
The dollar has turned firmer against the dong since the end of April, leaving a negative impact on market sentiment. However, market liquidity remains high, while the legal foreign currency demands of organizations and citizens are being fully met, the official added.
The central bank today quoted the central reference rate at VND23,069, rising by VND23 compared with May 8.
Vietcombank posted greenback prices at VND23,345 for buying and VND23,465 for selling, up VND15 against Monday. BIDV raised dollar prices by VND20 to VND23,350 and VND23,470 for buying and selling, respectively.
Meanwhile, Techcombank bought a dollar at VND23,325 and sold it at VND23,465, up VND15 against the previous day.
On the world market, the gold price was stable at some US$1,276 per ounce, which was unchanged against the previous session, while domestic gold prices continued to fall.
Saigon Jewelry Company quoted gold prices at VND36.2 million per tael for buying and VND36.37 million per tael for selling, down VND20,000 against Monday and some VND150,000 from the end of last week. One tael is equal to 1.2 troy ounces. SGT