The Ministry of Finance has submitted to the Government a five-month extension of value-added tax (VAT), personal income tax and land rent fee payments for those affected by the COVID-19 epidemic.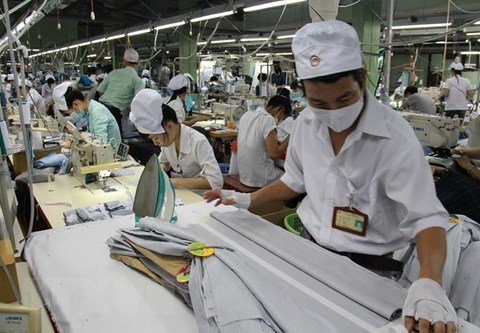 A garment production line at Binh Duong Garment One-member Company Ltd., in the southern province of Binh Duong.
The extension is a key part of the Government draft decree on extension of tax payment and land rent to those affected by the epidemic, which is expected to come into effect soon to help businesses recover production and overcome difficulties, contributing to gaining the set economic growth target of 2020.
If the draft is approved by Prime Minister Nguyen Xuan Phuc, there will be three groups of beneficiaries.
The first group includes businesses, organisations, individuals, groups of individuals and households engaged in production activities in agricultural, forestry and fisheries sectors, production and processing of food, textile and garment, footwear, production of rubber products, production of electronic products and computers, and automobile manufacturing and assembling (except for cars with nine seats or fewer).
The second group covers those operating in transport sectors (railway, road, waterway, aviation, warehousing and supporting activities for transportation), accommodation and catering services, activities of travel agents, tour businesses and support services related to tour promotion and organisation.
And the third is small and super small enterprises defined by regulations of the Law on Supporting Small and Medium Enterprises.
The ministry said the total amount of the five-month extension is estimated to be about VND30.1 trillion (US$1.3 billion), which is not expected to affect the State budget balance in 2020. However, the budget revenue this year will not decrease because enterprises must complete payment to the State budget before December 31, 2020.
According to recommendations of the Vietnam Association of Small and Medium Enterprises sent to the Prime Minister and the Ministry of Finance recently, the COVID-19 epidemic has directly affected many industries and production fields of Viet Nam, causing supply chain disruptions and indirectly effecting the entire economy.
A forecast by the Ministry of Planning and Investment shows that in case the epidemic is controlled in the first quarter of this year, the country's economic growth rate is forecast at 6.25 per cent, down 0.55 percentage point compared to 6.8 per cent set out in the Government's Resolution No.01/NQ-CP on January 1, 2020.
In case the epidemic is controlled in the second quarter of this year, the economic growth will reach 5.96 per cent, down 0.84 percentage point ​​against the target.
Pham Dinh Thi, Director of the Tax Policy Department under the Ministry of Finance, said that in a short time, the ministry collaborated with other ministries and agencies to finalise the draft decree to submit it to the Government for approval and promulgation, aiming to provide assistance to those engaged in production and business activities in economic sectors directly affected by the Covid-19 epidemic.
All beneficiaries of the draft decree must send a written request for extension of tax and land rent to the tax authorities before May 31, 2020 (electronic or other methods selected by taxpayers).
Ha Noi to help businesses overcome impact of COVID-19 epidemic

The chairman of Ha Noi's People's Committee has asked the city's Tax Department to put forward support measures for businesses and a realistic budget collection scenario after assessing the impact of the novel coronavirus (COVID-19) epidemic on the manufacturing and service sectors.
Chairman of Ha Noi People's Committee Nguyen Duc Chung made the statement during a working session with the Ha Noi Tax Department on Tuesday about budget collection and solutions to help businesses and taxpayers that suffered losses due to the COVID-19 epidemic.
The Tax Department needs to listen to the opinions of the business community about difficulties they have faced so the city can develop suitable policies, he said.
Director of the Ha Noi Tax Department Mai Son said that Ha Noi's tax revenue this year is likely to fall against the State budget estimate of Ha Noi for 2020 due to the COVID-19 epidemic.
The Tax Department has proposed four scenarios on reducing State budget revenues this year. Specifically, if the COVID-19 epidemic ends in the first quarter of 2020, the budget revenue is expected to fall by 1.82-2.33 per cent to VND4.2 trillion-4.5 trillion (US$178.7 million-191.5 million), excluding State budget revenue from land.
If the epidemic ends in the second quarter of this year, the revenue would drop by 2.85-4.06 per cent to VND6.6-9.4 trillion.
If the epidemic lasts until the third quarter, it is expected to plunge by 4.67-5.49 per cent to VND10.8-12.7 trillion.
Meanwhile, if the epidemic continues until the fourth quarter, the State budget revenue reduction is expected to be 6.48-7.17 per cent to VND15-16.6 trillion.
Chung said that those scenarios are realistic, but the department needs to keep its eye on unpredictable developments of the epidemic and then have more detailed assessments on the epidemic's economic impacts in Ha Noi.
The epidemic will have a great impact on the municipal economy and enterprises' production from the end of the first quarter and the impacts will be greater in the second and third quarters, he said. That will cause production and consumption to decline sharply.
To deal with the difficulties in State budget collection due to the COVID-19 epidemic, the Ha Noi Tax Department will promote administrative procedure reform and electronic tax projects. Of which, it must develop an electronic invoice project as scheduled and expand electronic tax collection without using cash from individuals, the An ninh Thu do (Capital Security) newspaper reported.
At the same time, the department will implement policies of the Government and Ha Noi to remove difficulties and provide support for taxpayers. It will actively follow production and business activities of enterprises and taxpayers during the epidemic to have suitable solutions on removing their difficulties.
The department will also have measures to reduce tax debts and increase State budget revenue from land to compensate for the budget revenue reduction in production and services due to the epidemic.
Bac Giang eases difficulties for firms amid COVID-19
Chairman of the People's Committee of northern Bac Giang province Duong Van Thai has pledged to adopt measures easing difficulties faced by local businesses amid the complicated development of COVID-19 outbreak.
Accordingly, the province will closely follow the Prime Minister's Directive No.11 dated March 4, 2020 on urgent measures removing difficulties in production and trade, and ensuring social welfare in response to the epidemic.
The provincial Radio and Television Station launched a hotline to collect public feedback about the handling of administrative procedures.
Since the beginning of this year, the provincial Department of Planning and Investment has granted licenses to 180 new businesses and 17 branches and representative offices, up 9.7 percent year-on-year with a total registered capital of over 1.27 trillion VND (55.2 million USD), down 28.5 percent.
Fifteen firms registered for dissolution and 149 others suspended operations.
Bac Giang is now home to over 9,400 companies, 446 of them foreign-invested with a total registered capital of nearly 3.5 billion USD. Meanwhile, domestic firms have registered more than 71.7 trillion VND in capital in the province.
Seventy percent of all the businesses are operational, offering jobs to about 232,000 workers, around 122,000 of them working for industrial zones.
The epidemic is hurting local exporters to China and the Republic of Korea (RoK), forcing them to lay off workers due to the shortage of materials for production.
PM urges business to be prepared for opportunity despite pandemic
Prime Minister Nguyễn Xuân Phúc has urged private businesses in Việt Nam to be prepared and look for opportunities following news that companies in countries like China, Japan and South Korea would soon resume production after disruptions due to Covid-19.
"Like a compressed spring, we have to be prepared to rise up and turn risk into opportunity," PM Phúc told a meeting on Thursday with private economic groups including big companies in the tourism, services, aviation, food and manufacturing sectors.
The World Health Organisation has declared the novel coronavirus, officially known as Covid-19, as a global pandemic. This means the world needs stronger concerted efforts in combating this deadly virus.
Việt Nam has 800,000 enterprises and millions of household businesses and at this time, enterprises and workers should be "the fortresses" in the pandemic battle, the Prime Minister said.
He endorsed efforts made by many corporations in preventing the disease spreading including applying advanced technology in work, reducing meetings and taking more precautionary measures to protect workers' health.
However, the Prime Minister emphasised enterprises with thousands of workers need to strengthen preventive measures in the workplace. Doing this is contributing to the country's anti-epidemic efforts, he said.
The head of the Government applauded many corporations that have taken appropriate directions and measures to develop but asked private businesses to contribute to ensuring supply of food and essential goods to people without sudden price hikes.
"We have to attain a double targets, to successfully fight the pandemic and stabilise the socio-economic situation," Phúc said.
The Government set a GDP growth target of 6.8 per cent in 2020. However, according to two scenarios of the Ministry of Investment and Planning, if the Covid-19 pandemic is contained in the first quarter, Việt Nam's GDP would grow by 6.27 per cent by year-end, while if the pandemic lasted into the second quarter, the economy would expand 6.09 per cent.
At the meeting, the Prime Minister also listened to difficulties faced by businesses due to the prolonged pandemic as well as gathered their opinions and contribution to policies in hopes of creating a better investment and business environment for private business development and fine-tuning policy to make it more practical.

The Ministry of Labour, Invalids and Social Affairs has told all enterprises that they must develop long-term policies for training and job replacement during the COVID-19 outbreak.  

Experts have warned that the epidemic would lead to increased risk in asset quality.