Prime Minister Nguyen Xuan Phuc has tasked the Ministry of Industry and Trade with reviewing media reports that many solar farms are operating below capacity due to the national grid overload.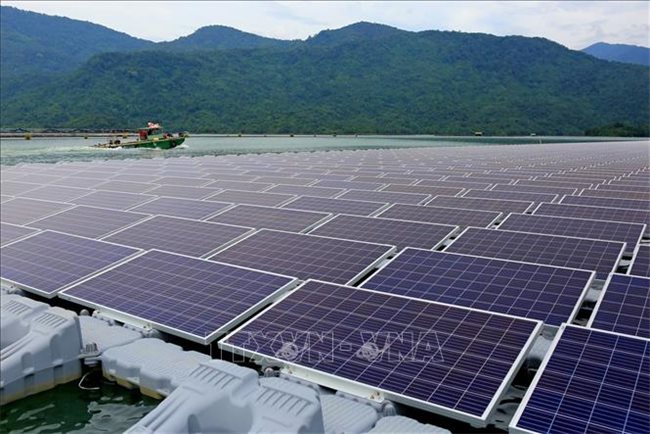 A floating solar farm at the reservoir of Da Mi hydropower plant in the south-central province of Binh Thuan 
Over the past few years, Vietnam has witnessed a boom in solar farms, helped by the introduction of the Prime Minister's Decision 11/2017 which offers incentives for solar power projects.
Under the decision, solar farms shall enjoy a feed-in tariff of 9.35 U.S. cents per kilowatt hour over a period of 20 years if they begin commercial operations before June 30.
As a result, an unprecedented number of solar farms came into operation within a short period of time to enjoy the Government's pricing incentives, leading to an upsurge in power output and thus putting pressure on electricity transmission lines.
In the first half of this year, nearly 90 solar farms with a combined design capacity of roughly 4,500 megawatts (MW) were connected to the national grid, accounting for 10% of the country's total capacity.
Thanks to their high solar potential, the south-central coastal provinces of Ninh Thuan and Binh Thuan are the most popular investment destinations, with 15 and 19 solar farms, respectively, according to Nguyen Duc Cuong, director of the National Load Dispatch Center. Their total capacity is 1,871MW.
Cuong said this boom in solar farms had caused an overload of the national grid. For example, the 110 kilovolt (kV) Thap Cham-Phan Ri line is operating at up to 260%-360% of its capacity.
If corrective action is not taken, the overload situation would further worsen in 2020, while solar power plants will have to operate below capacity, he warned.
Wind farms are also operating with restraint given the national grid overload.
Bui Van Thinh, chairman of the Wind Power Association of Binh Thuan Province, said three to five years will be needed to complete the construction of 220-500kV transmission lines, whereas a solar farm could be up and running after six to 12 months of construction.
According to the power plan, Vietnam expects to produce 850MW of solar energy by 2020, but the solar farms currently hooked up to the national grid have a total capacity of 4,500MW and the figure will rise to 11,900MW by 2020.
EVN's General Director Tran Dinh Nhan said that he has urged its member companies to accelerate the construction of 110 kilowatt lines to ensure that no solar farms will operate below capacity by 2020. SGT