Total public investment spending reached VND192 trillion (US$8.25 billion) from January-September, the Ministry of Finance reported at an online meeting yesterday.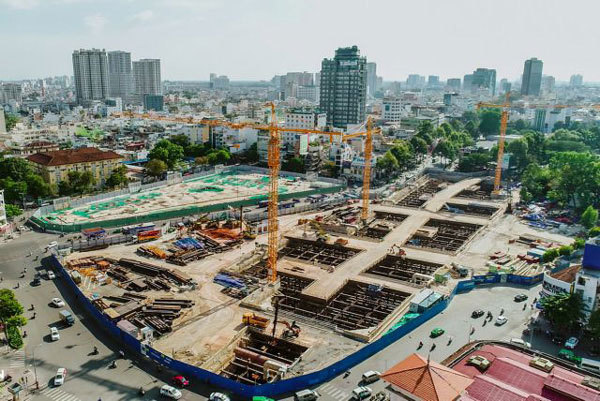 Work on Ben Thanh Central Station, part of HCM City's metro line number 1, Ben Thanh-Suoi Tien has slowed down. Total public investment spending reached VND192 trillion (US$8.25 billion) from January-September, meeting 49.14 per cent of the Prime Minister's target set for 2019. — Photo cafef.vn
The figure represented 45.17 per cent of the National Assembly's target and 49.14 per cent of the Prime Minister's target set for 2019. It was also lower than the figure set in the first nine months of 2018, the ministry said.
Seven ministries and sectors and 14 provinces reported the disbursement rate of public investment spending was more than 70 per cent. Thirty-one ministries and government agencies and 19 provinces reported the rate was below 50 per cent. Seventeen ministries and government agencies and one province recorded a rate below 30 per cent.
In the nine-month period, State budget spending hit VNĐ230 trillion, equal to 55 per cent of the assigned amount. Of the figure, VND38 trillion was pending at the treasury for settlement.
Total value of settlements for government bond issuance and official development assistance (ODA) projects in the first nine months was also lower than the previous year.
In general, the disbursement progress in all provinces, ministries and central agencies was slow in the early months of the year but picked up later.
According to Prime Minister Nguyen Xuan Phuc, slow public spending disbursement was a bottleneck for the country's socio-economic development.
It had held back the country's economic growth because local authorities were unable to use the funding efficiently.
Public spending is a key resource needed to develop the country's infrastructure. If its disbursement is low, private investors tend to lose confidence in the Government's plans.
In addition, public spending creates a burden for the Government and society as the State budget is still used to pay interests to lenders when projects are pending. Slow disbursement of public spending also weighs on the country's employment rate.
Government agencies, ministries and provincial authorities were unwilling to settle invoices provided by investors, project management units and contractors at different times of the year, Minister of Planning and Investment Nguyen Chi Dung said.
That led to invoices mostly being settled towards the year-end, he said.
The differences between regular spending and public investment were also another reason for slow public spending disbursement, Dung said.
Regular spending guarantees the Government, its agencies and local authorities a monthly budget to meet basic expenses. Investment spending requires agencies and local authorities to accumulate the load of completed work and send final invoices to the State Treasury for settlement.
Other problems include the public spending regulatory regime, complicated administrative procedures, and overlapping legal documents under the laws on land, construction, bidding, natural resources and environmental protection, the minister said.
To complete this year's public spending plan in the fourth quarter, Dung said the Government should hold ministries, agencies and local authorities more accountable for implementing public investment projects in 2019 and increase inspections of projects to ensure they are completed this year.
"The Government should not grant 2020 spending permits for projects that use the State budget that have not disbursed 50 per cent of their 2019 budget by November 30, except procurement projects," he said.
Funding evaluation
HCM City on Thursday asked the Government to evaluate plans for two urban railway projects so the city can settle ODA funding disbursement.
People's Committee chairman Tran Vinh Tuyen said the allocation of ODA funding and concessional loans provided by the State budget, which were borrowed from foreign lenders, had not matched the progress of the projects.
He said the plans should be reviewed to make sure they were being operated on schedule, generating benefits and profits for society.
The chairman also proposed the Government to give incentives and preferential policies for ODA projects.
The city's assigned public spending budget is nearly VND37.4 trillion in 2019. The figure includes city-owned capital of VND34.6 trillion, Government funding of VND1.97 trillion and ODA loans of VND800 billion.
VNS