With ASEAN's third largest population of over 94 million people yet the region's lowest urbanisation ratio of 36 per cent in 2018, Vietnam and its property market have the potential to surpass regional peers.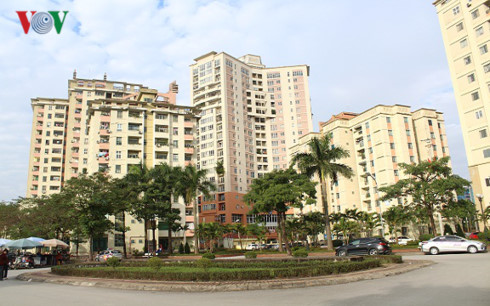 An optimistic outlook lays ahead for the Vietnamese economy thanks to high levels of FDI and suitable monetary policies, which could give a boost to the domestic property market.
Major cities snapshot
According to Savills Vietnam, the two main cities, Hanoi and Ho Chi Minh City (HCMC), are undergoing dynamic transformations and attracting high levels of foreign direct investment (FDI) and waves of new investment. Momentum in Vietnam's residential market derives from the country's golden demographics, ongoing structural changes and a positive economic outlook.
As the economic hubs of Vietnam, HCMC and Hanoi drive national fiscal growth as well as real estate performance. The two cities account for 17 per cent of the total inhabitants, whilst its urbanisation rates are the highest among ASEAN countries.
Strong population growth in urban areas has created robust demand for new projects whilst shrinking home occupancy and a surge in the number of single households supports new household formation. The majority of new supply comprises lower grade apartments, directly correlating with demographics and macro fundamentals.
Substantial sales increases occurred in both major cities between 2014 and 2018.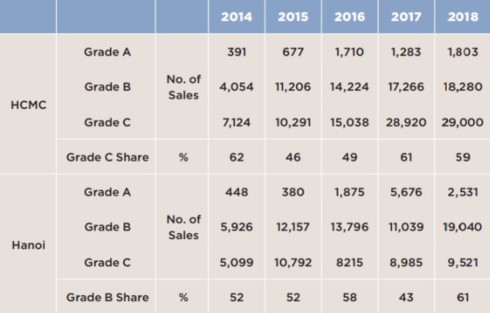 HCMC and Hanoi apartment markets. (Source: Savills Research & Consultancy)
In HCMC, transactions have risen 44 per cent per annum for the last five years, peaking in 2018 with over 49,000 sales.
The absorption rate recently hit its highest level for the last five years, topping out at 87 per cent. Growth is particularly evident in the affordable housing segment, or Grade C standard, which was the primary market driver from 2014 to 2018, accounting for 60 per cent of total transactions. With a lot of supply in the pipeline, this segment is expected to remain the market leader.
In 2018, home sales in Hanoi increased 20 per cent year on year. The mid-end segment, or Grade B standard, accounted for 61 per cent of total transactions. During the period 2014-18, Grade B represented 43-61 per cent of sales, whilst Grade C accounted for 31 per cent of the market, up 6 per cent on year. Grade A supplied 8 per cent due to a combination of high selling prices and limited new supply.
The performance of the high-end segment (Grade A) has improved over the last three years, attracting local and foreign investors with competitive pricing and appealing rental yields.
The increasing number of domestic High Net-Worth Individuals (HNWI) and a burgeoning middle class are proof of the potential for high-end, luxury property sales, whilst relaxed foreign ownership policies have attracted international purchasers.
In 2018, Hanoi and HCMC enjoyed a high level of demand from international buyers; the majority of Grade A projects quickly filled the pre-determined foreigner quota of 30 per cent during their launches.
Price trends
Purchasers in HCMC and Hanoi have a similar profile. Occupiers or end-users tend to dominate Grade C, whilst Grade B attracts upgraders and buy-to-let investors. The majority of Grade A buyers are long-term investors.
The large proportion of end-users reflects the healthy growth of the residential market. Currently, capital comes mostly from equity due to relatively high lending rates and low mortgage affordability; the government continues to control credit growth via multiple monetary policies.
In 2018, the average selling price in HCMC was US$1,600 per square meter, rising by 10 per cent on year over the last five years due to a price surge across all grades. Grade A experienced the highest price rise as it provided new supply with high development standards; Grade B and Grade C also grew, albeit at a slower pace.
Hanoi's average asking price in 2018 stood at US$1,300 per square meter, up slightly 1 per cent on year. Of note, Grade A saw the largest increase. Due to abundant Grade B supply, developers offered competitive prices in order to maintain sales.
Additionally, Grade C transactions grew due to the increased demand for affordable housing, with developers providing flexible payment terms, discounts and promotion programs to capture buyers' interest.
An optimistic outlook lays ahead for the Vietnamese economy with high levels of FDI and suitable monetary policies, which helps ensure that growth in Vietnam's property market will continue. Meanwhile, the supply in key cities is projected to increase in order to meet demand.
Until 2020, the majority of stock in HCMC will be Grade C while in Hanoi, Grade B is expected to dominate. VOV