Bilateral trade between Vietnam and South Korea is well on track to reach US$200 billion in 2020, said Kim Dong Bae, minister counsellor at the Republic of Korea's Embassy in Vietnam.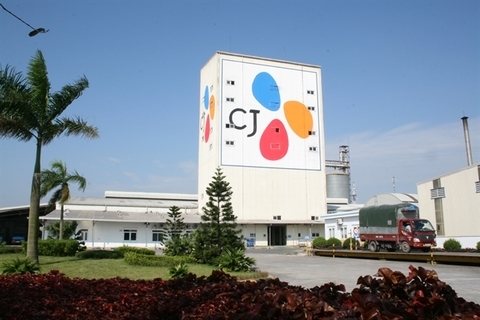 An animal feed production plant of CJ Vina Agri under the Korean CheilJedang Co in the northern province of Hưng Yên. — Photo nhonhoaindustrialpark.com
In addition to focusing on increasing trade, the two sides needed to pay more attention to investment cooperation projects, the counsellor said in a meeting in Ha Noi on Monday.
He added that South Korea also wanted the Vietnamese Government to better facilitate new Korean investment projects in the country.
Deputy Minister of Industry and Trade Tran Quoc Khanh agreed. He said accelerating two-way trade should go hand in hand with luring more investment from Korean businesses in potential fields.
Bilateral export turnover of nearly $70 billion in 2018 was thanks to the investment of Korean enterprises in Viet Nam, Khanh said.
When listening to the short-term difficulties of Korean businesses on issues of preferential tariff, counterfeit goods and trade defence measures, he said there would be no discrimination between Vietnamese and Korean-invested enterprises in the country.
According to Khanh, foreign investment needs stable policies, better infrastructure and human resources rather than tax incentives.
He said the Ministry of Industry and Trade (MoIT) would complete an action plan to reach $100 billion in bilateral trade by no later than January 2020.
The action plan was drawn up following a memorandum of understanding inked between the MoIT and South Korean Ministry of Trade, Industry, and Energy in Seoul in late 2018.
Under the drafted action plan, the two sides will co-operate to help Vietnamese enterprises enhance their competitiveness in the fields of spare part manufacturing, automobiles, garments and textiles, footwear and electronics.
They agreed to facilitate trade of agricultural products with the establishment of a working group among the MoIT, the Korean Ministry of Trade, Industry, and Energy and relevant ministries from both sides.
The Korean side agreed to help build the capacity of Vietnamese officials in trade policymaking and to improve the skills and competence of Vietnamese engineering workers and specialists in basic industries. — VNS

The Vietnamese government now also places high expectation for new Korean investment, especially in advanced and new technologies.

Up to 93 percent of the businesses from the Republic of Korea (RoK) are satisfied with their investments in Vietnam, according to a recent survey conducted by the Korea Trade and Investment Promotion Agency (KOTRA).