The steel industry experienced many difficulties in 2019 due to stronger steel imports and reduced sales of locally made products at home and abroad.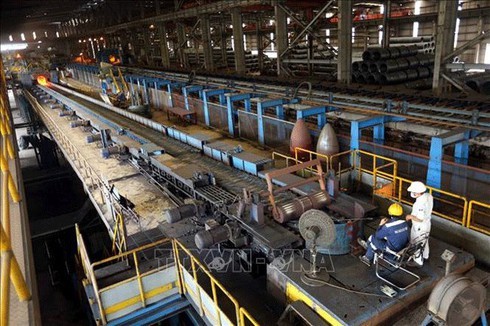 Steel is produced at a factory owned by Hoa Phat Group. The local steel sector faced troubles in 2019

Last year, low-cost steel imports from China, India, Japan and Russia to the Vietnamese market surged, causing difficulties for local steel firms' production and business operations, Sai Gon Giai Phong newspaper reported.
Specifically, more than five million tons of steel from China and two million tons from India and Japan, worth some US$10 billion, was imported by Vietnam.
Meanwhile, the country's steel exports plummeted by over 50% in both volume and value. The local consumption of steel products was also poor.
According to enterprises, the lower sales of steel products resulted from the competition of imported products and importing countries' increasing protectionism efforts.
In addition, banks have tightened control over credit for the real estate sector, hindering the progress of projects and directly affecting the sales of steel products.
To stabilize local steel enterprises' production, banks should reduce lending rates for these firms, stated a representative of the Vietnam Steel Association (VSA).
Strong trade remedies are also needed to prevent low-quality steel imports from flooding the domestic market.
Local steel producers faced still more difficulties as the U.S. Department of Commerce has imposed duties of up to 456% on corrosion-resistant and cold-rolled steel produced in Vietnam using a substrate of South Korean or Taiwanese origin.
The VSA representative noted that after the U.S. Department of Commerce launched its investigation in August 2018, the association worked with lawyers in the United States and Vietnam and export enterprises to gather the required information and asked local producers to coordinate closely with U.S. investigators.
The association had also proposed the Trade Remedies Authority of Vietnam, under the Ministry of Industry and Trade, work with the U.S. Department of Commerce, suggesting the department create favorable conditions for Vietnamese enterprises to prove the origins of materials used in their products to protect their legitimate interests.
According to the VSA, many local steel producers have built their production and business plans after being subject to heavy duties by the United States, including prioritizing the use of locally made materials rather than imported ones and improving their governance systems.
The VSA has asked local steel firms to increase their competitiveness by applying advanced technology and using locally produced materials or those from Japan, Brazil, Austria and Belgium to reduce risks. SGT

International free trade agreements have opened up unprecedented opportunities for Vietnamese steelmakers with the industry forecast to see robust growth.

Various environmental incidents in 2019 have forced Vietnam's people and Government to face a reckoning.