Vietnamese shares made strong gains on Thursday as investors scooped up large-cap stocks that had been previously hit hard.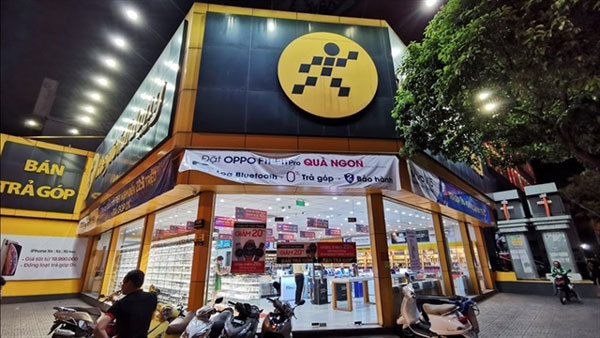 A Mobile World store in HCM City. The company shares gained 1.4 per cent on Thursday. — Photo thegioididong.com.vn
The benchmark VN-Index on the Ho Chi Minh Stock Exchange (HoSE) gained 1.36 per cent to end at 938.54 points.
It was the biggest daily growth on HoSE since the Vietnamese stock market reopened on January 30 following the week-long Tet (Lunar New Year) holiday.
The benchmark index has lost a total of 5.34 per cent since the market reopened.
The VN-Index slid 0.34 per cent on Wednesday.
More than 223 million shares were traded on the southern bourse on Thursday, worth VNĐ4.24 trillion (US$182 million).
Market sentiment clearly improved from previous days as stronger purchases helped boost 264 stocks on the major bourse while 83 declined.
Buying power boosted the large-cap, mid-cap and small-cap indices on HoSE between 1.7 per cent and 2.1 per cent.
According to vietstock.vn, 24 of the total 25 sector indices increased with the best-performing being mining and energy, banking, brokerage, technology, seafood processing, agriculture and retail.
Those sector indices rose between 1.3 per cent and 6.3 per cent, data on vietstock.vn showed.
Among large-cap gainers were property firm Vincom Retail (VRE), lenders Sacombank (STB), VPBank (VPB), HDBank (HDB), PetroVietnam Gas (GAS), PetroVietnam Power (POW) and retailer Mobile World (MWG).
Those companies' shares gained between 1.4 per cent and 6.9 per cent.
The benchmark VN-Index is still enjoying long-term growth momentum and the impact of the coronavirus has been priced in the market's recent downtrend, so many stocks are very attractive to investors, according to Yuanta Securities Co.
Market confidence improved significantly as investors saw opportunities in stocks that had been brought down by fears about the epidemic, Thanh Cong Securities Co (TCSC) said in its daily report.
TCSC said the market may have moved away from the most difficult time of the year and investors now have plentiful opportunities to buy Vietnamese shares.
Attention now may be shifted to 2019 corporate earnings reports and growth prospects in 2020, especially the banking, financial and retail industries, the company said.
On the Hanoi Stock Exchange, the HNX-Index added 2.57 per cent to end at 105.84 points.
The northern market index has made a three-day rally of a total 4.47 per cent.
Nearly 35 million shares were traded on the northern market, worth roughly VND350 billion. — VNS

Chair of the State Securities Commission (SSC) Tran Van Dung commented that the investors have 'overreacted' to the nCoV outbreak, believing that the market will recover when the epidemic peaks, as it happened with SARS and H5N1.
The Vietnam's stock brokerage market share has experienced big change due to the strong participation of foreign securities companies, especially of Korea-invested ones.