Adopting advanced technology and improving the localisation ratio of materials and accessories are textile and garment enterprises' best chance.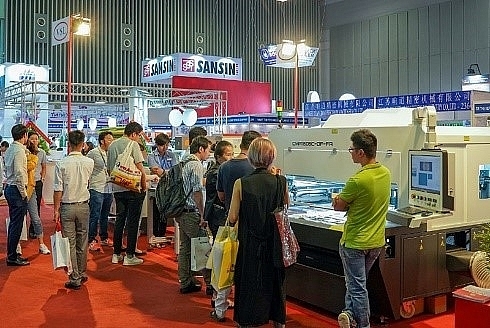 Visitors to VTG 2019 will be able to sample the world's newest inventions in the textile and garment industry

Export milestone
Statistics from the General Department of Vietnam Customs show that textile and garment exports in the first nine months of 2019 increased by 9.6 per cent on-year, reaching $24.61 billion – a new record. It is noteworthy that growth was recorded across most export markets.
After three-fourths of 2019, the US was still the biggest importer of textiles and garments from Vietnam, with an import value of $11.2 billion, up 8.7 per cent on-year and accounting for 45.5 per cent of the total textile and garment export turnover of the country.
Japan imported $2.91 billion worth of textiles and garments, up 10.5 per cent, while the EU (28 nations) $3.2 billion, up 4.6 per cent. South Korea reported strong growth with 10.5 per cent at $2.6 billion, and China imported $1.18 billion worth of products, up 10 per cent.
According to the Vietnam Textile and Apparel Association (Vitas), aside from textiles and garments, Vietnam has also accelerated the export of high value-added items such as fabrics, fibres, yarns, geotextiles, and accessories over the past two years. This has turned Vietnam into the third-largest textile and garment exporter in the world, with estimated earnings of $40 billion, another record.
Thanks to a big population of about 95 million people and close proximity to the world's second-largest economy, Vietnam has long been a destination for textile and garment companies looking for low production costs and young labour force.
It is worth noting that the sector's export opportunities are considered highly potential by industry experts, since Vietnam has joined many free trade agreements (FTAs) and had production advantages, as well as the US-China trade tension, which causes a shift of orders from China to Vietnam.
Technology, materials, and accessories
The textile and garment industry, however, faces challenges like a lack of local materials and accessories and obsolete technology, which requires investments and renovation to welcome orders redirected from China and to meet tax exemption and reduction conditions from FTAs.
To ensure sustainable development, the Vietnamese government keeps encouraging and supporting enterprises' machinery and equipment upgrade, bolstering human resources training and facilitating technology renovation.
Along with the strong growth momentum of Vietnam's textile and garment sector, the 19th Vietnam International Textile and Garment Industry Exhibition (VTG 2019) and Vietnam International Textile and Apparel Accessories Exhibition (VitaTex) will take place at Saigon Exhibition and Convention Centre (SECC) on November 20-23 with 800 booths of 530 representatives of 550 brands coming from 14 countries and territories.
The world's big brands will be present to introduce a series of automatic, high-performance textile and garment machinery and equipment, and high-quality fibres, yarns, threads, and dyeing chemicals.
The world's big brands will be present at VTG 2019 to introduce a series of automatic, high-performance textile and garment machinery and equipment, and high-quality fibres, yarns, threads, and dyeing chemicals.
ZSK and Nantex (Germany), and Barudan (Japan) will introduce high-definition embroidery machines; Tajima will introduce computerised embroidery machines with smart thread management system; automatic screen printing machines by Heinz Walz, OZ, Bihong, and San Sin; Askme will present a direct demo of optimal products; Xiamen Xing-Quanlong will also showcase its automatic, high-flexibility circular knitting machines; and TAK will introduce multifunctional cleansing solutions including dry-cleaning, packaging, fabric straightening, and uniforms.
Suppliers of quality dyeing chemicals such as Eksoy, Nicca, Zschimmer & Schwarz, and 3M will also join VTG 2019.
Meanwhile, fabric, thread, and yarn brands from South Korea, India, and Taiwan will be present at three international areas. The exhibition will bring comprehensive solutions to the entire supply chain of the textile and garment industry. Visitors can have access to the world's newest inventions and latest market information in the sector, and exchange with key businesses from around the world.
The exhibition is jointly organised by Yorkers Exhibition Service Vietnam and Vietnam National Trade Fair and Advertising Co. (Vinexad). The event is co-organised by Hong Kong Apparel Machine Association, Paper Communication Exhibition Service Co., and the Guangdong Sewing Equipment Chamber of Commerce.
Many programmes will be held during the exhibition. According to the organising board, many well-known lecturers from prestigious industry associations will share their successes through such topics as in-depth analysis of the impacts of the US-China trade tension on Vietnam; attracting and optimising Vietnamese talents in the digital era; US-China trade war and its impact on the textile and garment industry; and way for the industry to go forward, among others. VIR
Nguyen Huyen

Thirty-eight Vietnam's textile and garment companies recently attended 'Global Sources Fashion and Global Sources Lifestyle', the biggest fashion exhibition in Hong Kong, to seek buyers.

Vietnam's textile and garment industry was likely to reach its target of US$40 billion in export turnover this year despite facing difficulties in some markets.  

The possibility of Vietnam's textile industry hitting its target of $40 billion in exports this year is getting slimmer.