The Ministry of Industry and Trade (MoIT) confirmed that the goods reserves are still plentiful to ensure adequate supply for people.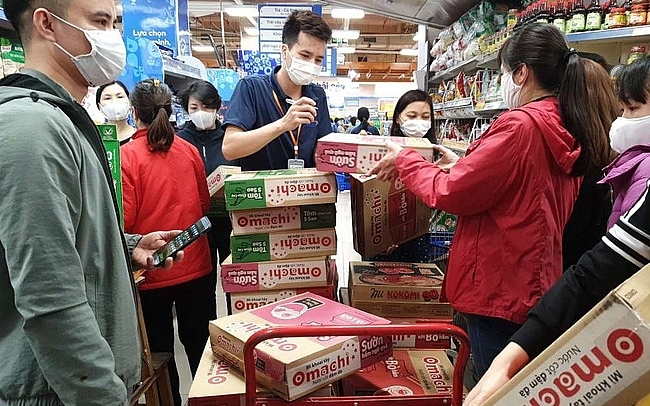 Following directions from the MoIT, retailers have tripled stocks in anticipation of an outbreak
On the morning of March 7, the MoIT issued a quick notice on the situation of goods supply in Hanoi.
According to quick reports from some retailers, the number of customers has increased sharply since the morning of March 7 but supermarkets can still meet the demand.
Previously, under the guidance of the MoIT and assessing the purchasing demand of people during the epidemic, suppliers have gradually tripled their stockpiles of goods. These preparations are now paying off, as the first COVID-19 infected patient has been reported in Hanoi, raising concern among the populace of the capital.
The MoIT has issued a written directive to retailers (supermarkets and convenience stores) in Hanoi to increase the supply of goods, especially essential consumer goods, to ensure the needs of the people.
Duong Thi Thanh Tam, deputy general director of Vincommerce (the owner of the Vinmart and Vinmart+ chains) also affirmed that the supermarket chains are restocking shelves continuously throughout the day.
However, fears of the epidemic drive Hanoians to supermarkets to stock up on consumer goods.
New SARS-CoV-2 case in Hanoi sparks panic buying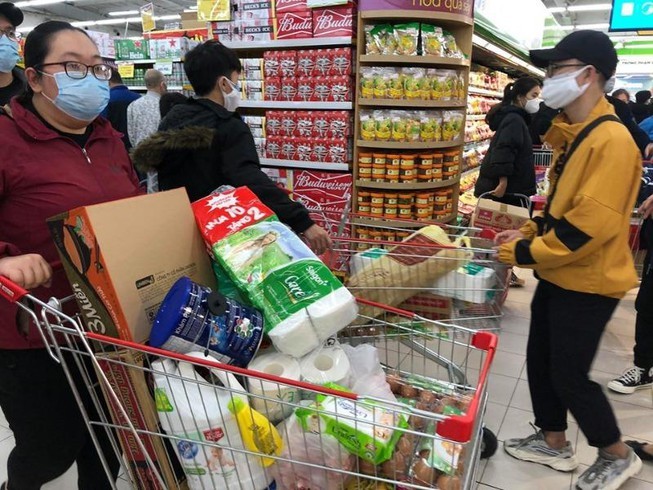 Hanoians flock to supermarkets after new confirmed case
People in Hanoi have started to store foods and essential goods after the city reported the first Covid-19 patient on March 6.
After the first case of Covid-19 was confirmed in Hanoi on March 6, and the 17th case in Vietnam, people have flocked to grocery shops and supermarkets to stockpile food and other products related to the outbreak overnight.
At 2 am, DaLat Mart at Times City was still crowded with people and a queuing line outside. Instant noodles, rice, toilet paper, vegetables and fruits were the most common purchases. Phuong, the store manager, said they usually closed at 11 pm but after Hanoi had it first Covid-19 case, they had to call for more employees to work overnight to cope with the increased number of customers.
"The prices are the same. We knew that we would work overnight," she said.
Huong, a resident at Times City, said she had to queue for quite a long time to buy instant noodles, spices and toilet papers for at least two to three days.
My Linh from Linh Dam said she bought enough supplies for 10 days in case there is an outbreak in Hanoi. "I bought mostly rice, vegetables, pork. I also bought instant noodles but not much because my family may not be able to consume it all," she said.
Lan, a representative of a convenience store in Ha Dong District said customers started queuing from 11 pm until 2 am. "We have never been such overwhelmed. We have to ask that each customer is allowed to buy only two cartons of instant noodles and 30kg of rice. We don't have much supply," she said.
Also in Ha Dong District, Cao Tuan Ninh said when he went out to buy instant noodles at 1 am, everything was sold out within five to seven minutes.
Cuong from Gia Lam District said he walked 5 km and queued 30 minutes in order to buy toilet paper and instant noodles. When he returned home, it was 2 am. "I've never had to queue before but today, rice, vegetables and fruits were all sold out. The prices didn't increase though," he said.
In the morning of March 7, supermarkets and shopping centres were overcrowded. Meat and fish shelves were nearly empty. Long queues can be seen at supermarkets even though it was only 8 am.
At 10 pm on March 6, Chairman of Hanoi People's Committee Nguyen Duc Chung confirmed that one woman lives on Truc Bach Street had tested positive to SARS-CoV-2. VIR/Dtinews

Vietnam on March 7 afternoon reported two more COVID-19 infection cases related to a female patient named N.H.N confirmed to be infected with the novel coronavirus SARS-CoV-2 a day earlier, said the Ministry of Health.

Many shops and restaurants in Hanoi and HCM City have closed or are looking for new owners due to Covid-19 fears.