Vietnam must focus on consolidating macro-economic foundations and reforming institutions to increase resilience in the context of global uncertainties, according to the Central Institute for Economic Management.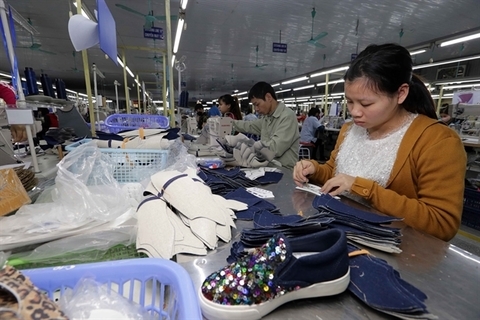 Shoes are finalised at Ha Tay Chemical Weave Co Ltd in Ha Noi's Hoai Duc District for export. Shoes are among a number of exports to the European Union that may not enjoy early ratification of trade deals.
"Greater reforms are critical to accelerate economic growth and improve growth quality," said Nguyen Dinh Cung, CIEM's Director. He stressed there were a number of challenges ahead for Viet Nam's economy, while the room for macro-economic policies to stimulate growth was narrowing.
The economic development in the first quarter of this year did not see any breakthroughs, Cung said.
He stressed that promoting innovations was vital to create breakthroughs, adding that innovations should be considered the major resource for growth.
According to CIEM, Viet Nam must deal with a number of challenges, mainly from macro-economic fundamentals, especially the slow issuance of legal documents to cope with global developments.
For example, Viet Nam was slow in amending regulations and issuing instructions to implement the Comprehensive and Progressive Agreement for Trans-Pacific Partnership (CPTPP).
Nguyen Minh Thao, head of the CIEM's Business Environment and Competitiveness Department, said that it was important to enhance policy enforcement.
According to Nguyen Anh Duong, head of CIEM's General Research Department, said that Viet Nam's economy faced challenges from the possible slowdown of the US economy, trade tensions between the US and other major economies and the slow issuance of policies, for example to implement CPTPP or approach Industry 4.0.
Macro-economic policies of Viet Nam still proved appropriate as of April, with monetary policy showing adequate prudence and flexibility in coordination with fiscal policy and dynamic trade policies, Duong said.
He added that Viet Nam's economy might be affected by external factors in the remaining quarters of 2019.
First was the increasing possibility of a US economic slowdown.
Trade tensions might increase with unanticipated developments in the US-China trade war.
Viet Nam should note that the European Union was busy with Brexit, so the possibility for early ratification of trade deals might be less likely.
In addition, Viet Nam's export products might face more technical barriers, even in markets of CPTPP members.
Duong also pointed out that the international financial markets might overreact to unfavourable developments, especially geo-political issues, which might affect investors and the capital flow in and out of Viet Nam.
Still, CIEM predicted that Viet Nam's economic growth indicators would be able to reach the Government's target set for this year.
CIEM projected GDP growth at 6.88 per cent, export growth at 9.02 per cent, trade surplus at US$3.1 billion and CPI at 3.71 per cent.
Viet Nam should be more cautious in evaluating global economic prospects to develop appropriate policies, Duong said.
Compared to ten years ago, Viet Nam's policy-makers were more calm and experienced in coping with uncertainties, he said.
The Vietnamese economy grew at 6.79 per cent in the first quarter of this year, lower than the rate of 7.45 per cent of the same period last year.
The Government set a target of GDP growth at 6.8-7 per cent for the full year. — VNS