The European Commission has yet to finalize a specific date for reconsidering the lifting of a yellow card it had previously imposed on Vietnam's seafood products, said a representative of the Vietnam Association of Seafood Exporters and Producers.
PM expects removal of EC's warning on seafood
EC's yellow card for Vietnam seafood remains in place
Efforts pledged to remove EC's "yellow card" on Vietnamese seafood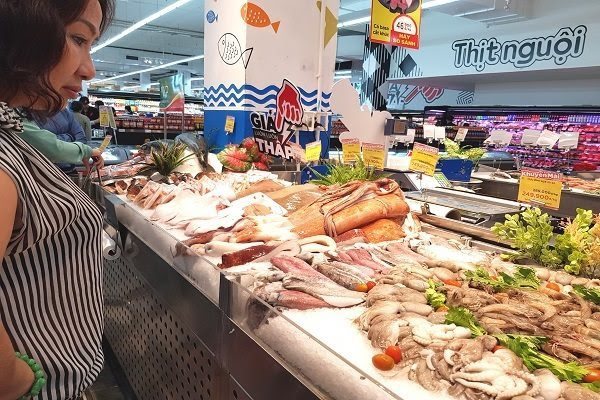 A customer inspects seafood products on display at a supermarket in this file photo. The EC has yet to finalize a specific date for the review of Vietnam's efforts to have the yellow card on its seafood products removed
In response to two sources claiming the EC's working team would visit Vietnam in June and October this year to review the country's efforts to have the yellow card on its seafood products lifted, VASEP vice general secretary Nguyen Hoai Nam told the Saigon Times that the team might review the yellow card in October.
The specific date might be confirmed after the EC's upcoming visit to Vietnam in May, as the team's official trip to Vietnam to conduct the review has been postponed repeatedly.
The EC had previously rescheduled its visit to Vietnam from January to this month, but no visit has been made to date.
It issued the yellow card to Vietnamese seafood products on October 23, 2017, as the country had failed to clamp down on illegal, unreported and unregulated (IUU) fishing.
After the issuance of the yellow card, at least 62 local seafood processors and exporters pledged to take steps to fight IUU fishing.
The EC offered the Vietnamese side many recommendations and presented its requirements to help the country progress in its fight against IUU fishing as well as address existing shortcomings in the local fishing sector, according to Truong Dinh Hoe, general secretary of VASEP.
The EC's suggestions, including installing monitoring systems on fishing boats to control their operations and taking steps to keep the volume of seafood caught in specific areas under control, were approved by the Ministry of Agriculture and Rural Development. SGT