The retailer community last week was stirred up by the news that a Vietnamese enterprise had acquired a famous foreign retail brand just after one month of negotiations.
On June, Auchan Retail Vietnam officially transferred the entire Auchan supermarket chain to Saigon Co-op, one of thecbiggest Vietnamese retailers.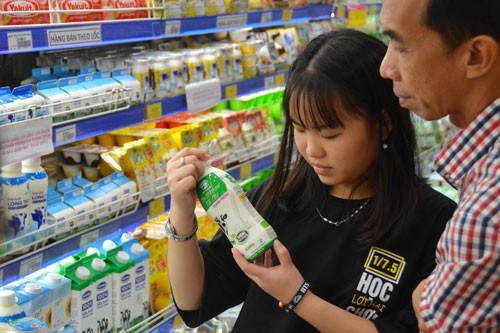 This is the first time a Vietnamese retailer has taken over a foreign brand, which shows the position of Vietnamese enterprises in the retail market.

The transfer deal showed that the price Saigon Co-op paid was up to 20 percent lower than the candidate which offered highest bidding price.

Diep Dung, chair of Saigon Co-op, said the French partner highly appreciates MD Saigon Co-op's experience, capability and prestige and has confidence in the leading retailer.

Before falling into the hands of Saigon Co-op, in early June, Auchan shut down 15 of its 18 supermarkets in Vietnam, ending 4-year presence here.
Before falling into the hands of Saigon Co-op, in early June, Auchan shut down 15 of its 18 supermarkets in Vietnam, ending 4-year presence here.
Explaining its closure, Auchan said the business performance was unsatisfactory. The retail chain had been incurring losses since it entered Vietnam and its revenue in 2018 was $45 million only.

When arriving in Vietnam in 2015, Auchan once nurtured big ambitions to prosper in the one of the fastest growing markets in the world. It joined forces with enterprises and real estate groups to build supermarkets at residential quarters.

The retailer once planned to invest $500million in Vietnam to open 300 supermarkets and shops. However, just after three years of operation, it had to leave Vietnam.

After taking over Auchan, the Vietnamese retailer is planning to restructure it. Auchan supermarkets in HCMC, Hanoi and Tay Ninh which were shut down will resume operation with Saigon Co-op brands, such as Co.opmart, Co.opXtra and FInelife.

As for the three Auchan operational supermarkets, including two in district 7 and one in district 1 in HCMC, Saigon Co-op will maintain their operation until February 2020. The retention of the Auchan brand will be decided after February 2020.

In the past, the Vietnamese retail market was believed to be controlled by big foreign firms, especially after Thai groups successfully took over Big C and Metro.

However, things are different now. The acquisition of Auchan by Saigon Co-op showed that foreign conglomerates are not the only ones that can take over enterprises.

Analysts commented that with the existence of two big Vietnamese groups, Saigon Co-op and Vingroup, the retail market is in balance between foreign and Vietnamese owned retail chains.

M&As are considered by enterprises as a tool to develop the market. Vingroup, for example, through M&As, has jumped into the retail market. In 2014, VIngroup for the first time turned up in the retail market after acquiring 70 percent of shares of Ocean Retail at VND570 billion.
Kim Chi 

Saigon Co.op has officially taken over 18 Auchan supermarkets in the country after the French retail group announced its withdrawal last month from the Vietnamese market by selling its loss-making business.

The departures of the 24-hour convenience store chain Shop & Go, the e-commerce site Robins.vn and now the supermarket chain Auchan mirror the fierce competition in Vietnam's retail market.