The first virtual store has opened in Vietnam, giving more choices to shoppers. However, it is still unclear if it will become a new trend.
Vingroup plans to set up virtual stores in 20 locations in Hanoi and HCMC at first, before applying the model throughout the country.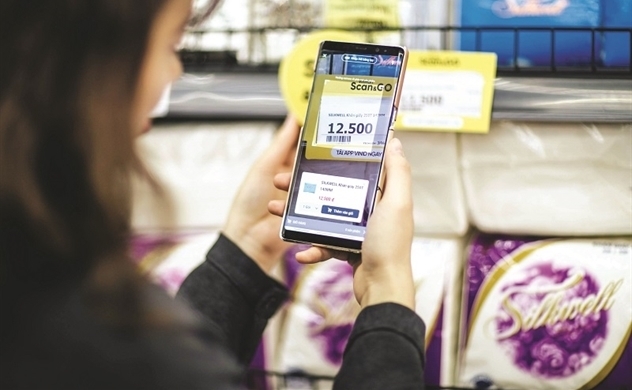 Virtual stores have large posters and images simulating hundreds of categories of products in reality. They are designed in a way to catch shoppers' eyes as if they are in physical supermarkets.
Customers who want to buy goods from virtual stores just need to download shopping software provided by retailers, scan the QR Code, and make payment on their smartphones. Goods will be delivered within several hours after the payment.
The shopping process lasts 20-30 seconds only. With virtual stores, busy people can buy goods quickly and conveniently.
According to Appota, by the end of the first half of 2018, about 67 percent of Vietnamese used the internet and 72 percent used smartphones, which helped fuel the online shopping boom.
The shopping process lasts 20-30 seconds only. With virtual stores, busy people can buy goods quickly and conveniently.
A survey by Q&Me found that 80 percent of people in 2018 confirmed they did online shopping.
Meanwhile, the Ministry of Industry and Trade (MOIT) reported that e-commerce revenue grew by 20 percent and the figure is expected to reach $10 billion by 2020.
By that time, the ministry believes that 30 percent of population will do online shopping with the average transaction value of $350 per capita per annum.
Chair of the Vietnam E-commerce Association (Vecom) Nguyen Thanh Hung commented that new technologies (ccloud, mobile services, big data, cryptocurrency and blockchain) will continue to have big impact on online shopping.
Once new business modes (platform, sharing economy) become popular, retail will also have to change.
Analysts, citing success stories of virtual store models in other countries, including Homeplus in South Korea, believe that virtual stores will become popular in Vietnam and will be a revolution in the retail industry.
In Vietnam, the quality of products and services, however, are the main concern. How can someone complain if the products cannot meet the requirements? How does a customer know when the goods will be delivered? What happens if goods are delivered later than expected and customers are not at home to receive the goods?
An analyst warned that Vietnamese may be reluctant to buy goods at virtual stores because they have to pay before getting delivery. With other online shopping channels, COD is accepted. 
Le Ha

Around 99 per cent of import and export tax payments in HCM City are made online, according to the customs department. Switching to online payment has reduced work for customs officers and helped businesses save time and cost.