A special working group in charge of boosting reforms and improving the business climate would be set up this year.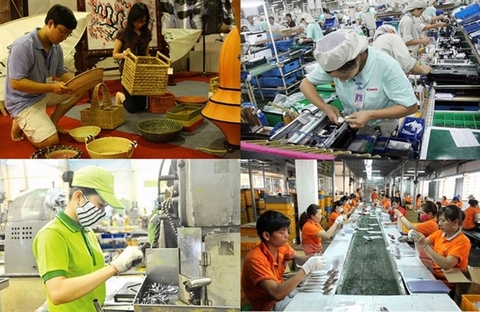 A special working group in charge of boosting reforms and improving the business climate is going to be set up early this year. — Photo VGP
A special working group in charge of boosting reforms and improving the business climate would be set up this year, Chairman of the Government Office Mai Tien Dung said at a meeting on Thursday to discuss plans to simplify business procedures in 2020-25.
The group would keep an eye on reforms made by ministries and localities and remove any difficulties they faced.
The group was part of the Prime Minister's draft decision on cutting and simplifying business regulations in 2020-25, which would be issued in February, Dung said.
Dung said the draft targeted to reduce at least 20 per cent of the documents issued by the Prime Minister and the Government and cut at least 20 per cent of regulatory compliance costs every year in the next five years.
The issuance of new legal documents, especially ministerial-level circulars, would be put under tight management to prevent new documents from pushing up costs for firms, he said.
It was necessary to restrict the issuance of circulars and gradually move towards a system that no longer required circulars to implement laws, Dung said.
He added that tools to calculate regulatory compliance costs would be developed to measure the quality of reforms.
The focus for 2020 would be reviewing and amending 25 overlaps and inconsistencies in existing legal documents recently pointed out by the Viet Nam Chamber of Commerce and Industry (VCCI) and the Central Institute for Economic Management (CIEM), he said.
Phan Duc Hieu, CIEM's deputy director, said that it was critical to revamp Government agencies' approach to management to truly cut costs for businesses.
Hieu said that the Government should issue fewer and "smarter" documents.
According to Dau Anh Tuan, head of the Legal Department under the VCCI, enhanced co-operation between ministries to prevent overlaps and inconsistencies among legal documents was vital.
"Viet Nam is embarking a more radical reform period, so the work will be very difficult but it is a must," Dung said.— VNS
New resolution on improving business climate
The Government issued Resolution No 02/NQ-CP on the first day of 2020 outlining solutions to improve the business climate and enhance national competitiveness.
The resolution targets Viet Nam jumping ten spots on the World Bank's ease of doing business ranking, five spots on the World Economic Forum's Global Competitiveness Index 4.0, 3-4 spots on the World Intellectual Property Organisation's Global Innovation Index, and 10-15 spots on the United Nations E-Government Development Index.
Focus will be placed on improving indicators related to the business climate, such as starting a business, paying taxes, getting credit and registering a property.
Administrative procedures which were simplified in 2018 and 2019 must be made public in January together with comparisons between business prerequisites before and after alterations to evaluate efficiency. Any new issuance must be reviewed carefully.
The resolution also targets to reduce 50 per cent of goods categories subject to checks before export/import.
Cashless payment will also be promoted together with the provision of online public services. Measures to promote cashless payment will be proposed to the Government by the fourth quarter of this year, based on evaluations of cashless payments from 2016-20.
In the World Bank's 2019 ranking, Viet Nam ranked 70th, losing one spot over the previous year despite earning higher scores because other economies had moved faster. VNS
Changes in the global business environment, along with newly issued regulations and guidance on corporate income tax obligations, have been substantially affecting the operations of many businesses in Vietnam.  

A number of business conditions have been reduced or removed thanks to the Government's efforts in improving the business environment and increasing national competitiveness.