In a move to boost public investment disbursement in 2021, key transport projects for the country have been kicked off, hoping to create new motivations towards Vietnam's socioeconomic development.
The My Thuan-Can Tho Expressway project costing VND4.83 trillion ($210 million) began construction on January 4. Once completed in the next two years, the expressway – together with Ho Chi Minh City-Trung Luong Expressway, Trung Luong-My Thuan Expressway, and My Thuan II Bridge – will create a completed expressway network between Ho Chi Minh City and the Mekong Delta city of Can Tho, thus shortening travel time by two hours and easing traffic jams.
Addressing the event, Prime Minister Nguyen Xuan Phuc said that a number of transport projects connecting the region will be kicked off imminently, thus contributing to regional socioeconomic development. They include Can Tho-Ca Mau Expressway and a 400-km coastal road along regional provinces.
A day later on January 5, work began on the long-awaited Long Thanh International Airport, which will become Vietnam's largest. Total investment for the first phase reaches $4.74 billion.
The airport will enhance national air infrastructure, helping meet growing trade flows and travel demands. It is predicted that this airport is likely to contribute about 3-5 per cent of the country's GDP once in operation.
Along with Long Thanh International Airport and My Thuan-Can Tho Expressway, the transport sector will carry out a number of other key national projects this year, including sections of the North-South Expressway's eastern cluster, transport projects connecting the Central Highlands, and other initiatives connecting northern mountainous provinces, urban railways, and more.
The transport sector, and Vietnam as a whole, is determined to accelerate public investment disbursement in order to create a driving force for national socioeconomic development for the 2021-2025 period amid carrying out the dual tasks of fighting COVID-19 and developing the economy.
The infrastructure works also reflects in line with the government's newly-issued Resolution No.01/NQ-CP on tasks and solutions for implementation of socioeconomic development and state budget estimation in 2021; and Resolution No.02/NQ-CP on improving the domestic business climate and national competitiveness – with development of infrastructure among the top tasks.
According to Minister of Transport Nguyen Van The, the ministry has been allocated about VND43 trillion ($1.87 billion) worth of public investment this year, up 1.1 per cent from 2020, and making up about 10 per cent of the country's total. Therefore, good performance in public investment by the transport sector will greatly contribute to national results.
He told VIR, "The prime minister issued Directive No.11/CT-TTg last March, focusing on measures to accelerate public investment disbursement and fast-track the completion process of infrastructure projects in an effort to spur economic development during the pandemic, and support this in the long term."
Transport is proving its increasing importance on growing trade and global integration. The country's trade flows are concentrated at 12 of its 48 border gates – two airports, five seaports, and five border crossing points – which collectively handled 86 per cent of total trade value. As trade grows, congestion at and near these international gateways and border-crossing points has also increased.
According to senior financial expert Nguyen Tri Hieu, Vietnam and other countries are speeding up infrastructure projects and public investment ventures as an effort to recover the economy after the coronavirus crisis. "With strong determination, the government will strive to help ensure resources for these projects," Hieu noted.
Vietnam saw improvements in public investment disbursement in 2020 thanks to the government's documents to fast-track such work. According to a report from the Ministry of Finance, the country is estimated to have disbursed VND389.98 trillion ($16.95 billion) by the end of December, meeting 82.8 per cent of the target set by the prime minister and making it the highest rate in the 2016-2020 period.
Transport is among the sectors reporting the highest rate of public investment disbursement in 2020, when it disbursed about VND39.82 trillion ($1.73 billion), fulfilling 100 per cent of the yearly target.
Experts predicted that public investment disbursement will be further improved from this year on the back of the Law on Public Investment 2019, which took effect on January 1, because it forces ministries, agencies, and localities to perform better – otherwise they will have capital allocation reduced in the mid-term public investment plans. VIR
Bich Thuy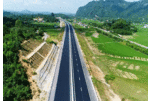 Construction of several national key projects, including the North-South Expressway and Long Thanh International Airports, have started.

HCM City plans to complete a number of major transport projects by 2025 that are expected to reduce traffic congestion at city gateways and improve connections to neighbouring provinces.