According to a Health Minister's direction issued yesterday, a medical worker has to do exercise 30 minutes per day.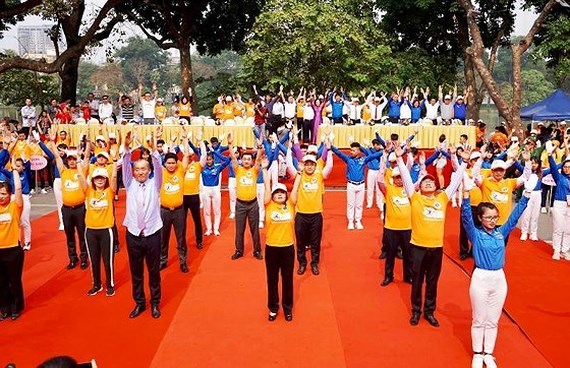 Health Minsiter Tien does exercise with WHO representative in Vietnam and young people (Photo: SGGP)
The direction said that in order to fight diseases and increase Vietnamese people's health condition, height, life span, Prime Minister Nguyen Xuan Phuc launched the Vietnam health program on September 2, 2018 and regular exercise is one of top priorities.
The health sector should take the lead in doing physical activities to set examples for residents and the community. Medical workers should do physical exercise in break time, in the morning or in working
hours in the afternoon.
Health Minister Nguyen Thi Kim Tien asked infirmary managers to encourage their staff to do regular exercise such as walking 10,000 steps per day, or doing moderate-intensity physical activity to 30 minutes per day.
Medical facility managers should buy equipment so that medical workers can do exercise at workplace as well as praise individual and teams that do regular physical activities at work.
Insufficient physical activity is one of the leading risk factors for death worldwide. People who are insufficiently active have a 30 percent increased risk of death compared to people who are sufficiently active.
Sufficient physical activity will held to reduce 20 percent to 40 percent risks of non-communicable diseases (NCDs) such as cardiovascular diseases, breast cancer, diabetes, risk of depression and control of one's weight. SGGP/VNS
Uyen Phuong