A new underground cave system located at a depth of 60 meters has been discovered inside Son Doong, the world's largest cave in the central province of Quang Binh, the local media reported, citing leading diving experts.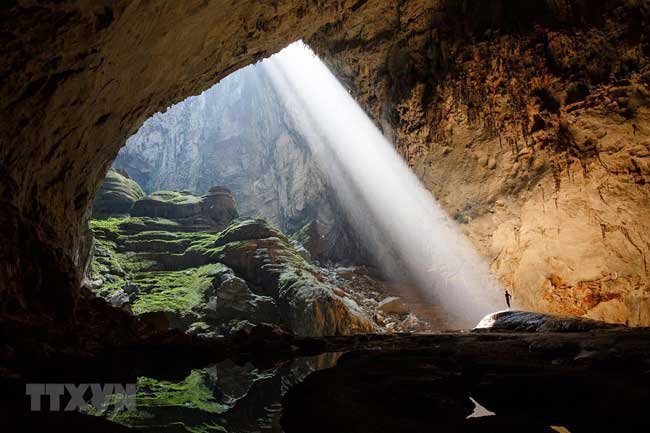 A view of Son Doong Cave in Quang Binh Province. A new underground cave system located at a depth of 60 meters has been discovered inside Son Doong - PHOTO: VNA
At an international press conference on the diving expedition in the underground river of Son Doong, jointly held by the Quang Binh government and the Ministry of Foreign Affairs in Hanoi on April 9, Howard Limbert, a member of the British Caving Association, who participated in the expedition, said that the purpose of the expedition was to find a possible connection between Son Doong Cave and Thung Cave, which are 600 meters apart.
It was initially assumed that the underground river section inside Son Doong Cave would run horizontally at a depth of 25 meters to connect with the underground river inside Thung Cave.
However, when diving experts measured the depth of the Son Doong underground river with ropes, it was recorded at 93 meters.
Therefore, divers could not use ordinary scuba tanks and had to find another ceiling spot with a depth of 40-50 meters to use their scuba tanks and rebreathers so they could remain underwater longer, said Jason Mallison, another diving expert from the British Caving Association.
Mallison dived to a depth of 77 meters to find the passage to Thung Cave but it was unsuccessful. The diving team plans to use helium tanks on its next expedition to dive deeper than 120-200 meters.
The discovery has made Son Doong even more mysterious to cave experts and scientists.
Speaking at the press briefing, Quang Binh Vice Chairman Tran Tien Dung said that the province has approved the exploration of the underground river system inside Son Doong from April 1 to 9.
The exploration involved the participation of four divers who helped rescue a Thai football team last year and other divers from the British Caving Association.
Nguyen Chau A, CEO of Oxalis Company Limited, which operates adventure tours to Son Doong, said that the cost for the expedition was estimated at US$53,000. Vietnam Airlines' support in transporting divers and equipment from the United Kingdom to Vietnam has helped reduce the cost.
A pointed out that everything in Son Doong Cave at a depth of 60-100 meters remains a mystery. Next year, the company will invite more divers to explore the underground river system in the cave. SGT