Hanoi's railway street' was once world famous as the perfect spot for selfies.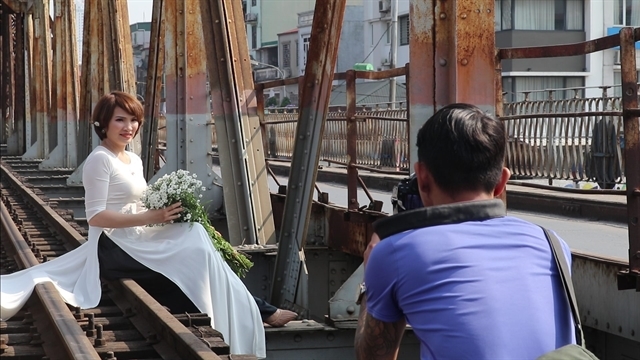 Lê Minh Thúy sits on the railway track to take her wedding pictures despite potential danger. 
Every day, hundreds of tourists would perch precariously on the tracks to get their Instagram-ready shot. But now, they may be looking to another site in the city.
In October, to ensure safety, authorities took the decision to restrict access to the track running through the capital and close cafes that had sprung up alongside. The move means those in search of the best backdrop for their wedding shoots have shifted slightly down the track – to a bridge that's a big part of the city's history.
Long Biên Bridge, which opened in 1903, is one of Hà Nội's iconic sites and attracts waves of foreign and local selfie-seekers. For most, the beauty of the location outweighs concerns over safety.
Trương Văn Quyên, a resident of Hà Nội, wanted the best pictures for his big day.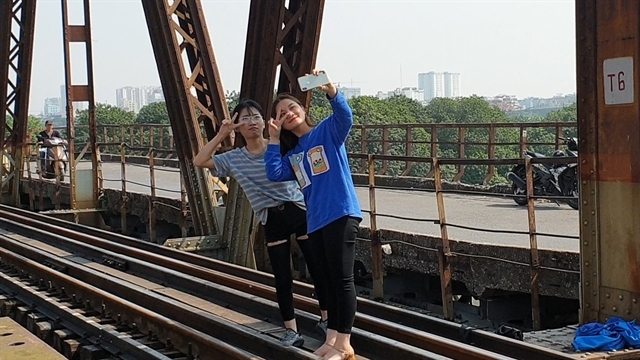 Many young people find Long Biên Bridge the perfectplace for selfies.
"Long Biên Bridge is one a bridge with hundreds of years of history, so on my wedding day, I want to take photos to bring a hundred years of happiness," he said.
Lê Minh Thúy, another capital-city dweller, understood the risks.
"I also want to have beautiful photographs, but I think there should be consent from the train manager. If they say I can't take pictures here, then I wouldn't try. I still want to put safety first," she said.
Tourists were on board too, Claudia Hainzelmann said: "If the people want to go there and know when there is no train, they can go there and take pictures if they want. Yeah. That's good."
For the moment, Long Biên Bridge is Hà Nội's hottest selfie spot, but budding photographers should always keep their focus on safety. — VNS

The rail track on Long Bien Bridge is seeing an increasing number of visitors after Hanoi banned visitors from visiting the railway on Phung Hung Street.

Hanoi's Long Bien Station has become a tourist attraction after renovation work.