While many painters seem to exhibit their work on a fairly regular basis, 90-year-old Mộng Bich held her very first solo exhibition just recently.
Thirty of her works - sketches, watercolours, and silk paintings - from six decades of creative output were displayed at the recent Di giua hai the ky (Between Two Centuries) exhibition at the French Cultural Centre, L'Espace, in Hanoi.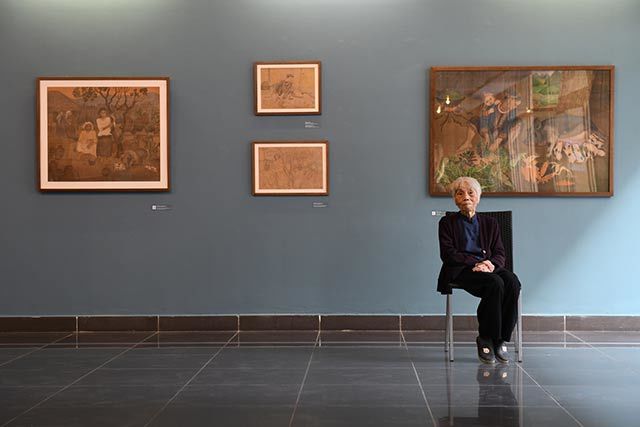 Mong Bich at her first solo exhibition
Her works have retained their artistic and historical value over the years, taking the audience back to days long gone.
Born in Hanoi in 1931, Bich graduated from the Hanoi College of Fine Arts (now the Vietnam University of Fine Arts) in 1970 and was a student of celebrated painters such as Tran Van Can, Nguyen Do Cung and Hoang Lap Ngon, who endowed her not only with knowledge but also with a love of painting.
She then worked at the Vietnam Doc Lap (Independent Vietnam) newspaper.
Her busy schedule as the only illustration and layout artist at the paper meant little in the way of free time, so she used every available minute to sketch on paper, which she would then return to and complete in silk when she was able.
Some sketches sat idle for years before becoming silk paintings, while others never made the transition at all.
The common themes in her works are old women or daily activities she comes across in life.
Highlights of her collection include portraits of an old woman beggar she encountered one time, a favourite teacher, master painter Tran Văn Can, and an ethnic Cham village at sunset.
"What I see or feel inspires me to draw," she said. "I like old Vietnamese women as subjects. I live in the countryside, where old women contributed so much to Vietnam's resistance wars. I can understand their hardships just by looking at their hands and feet."
"My paintings are not that popular. I like to paint portraits of old women in the countryside or old women beggars, but who would want to buy them? It may actually be quite fortunate, though. If I just kept chasing money, I may have forgotten the 'art'."
Her paintings don't catch the eye with bright colours but time can be seen in the details. For example, Ba Gia (The Old Lady) is of an old woman beggar, with a gaunt face, a scarf over her head, and layers of shirts or blouses, which was a common way for old women in northern Vietnam to dress in the old days. The silk painting won first prize at an exhibition held by the Vietnam Fine Arts Association in 1993.
Bich is also one of only a few female artists of her generation to have won major awards, including for her painting Mẹ và Con (Mother and Child), which picked up first prize at an exhibition held by the Việt Bắc Interzone Department of Culture in 1961, and a consolation prize at the National Arts Exhibition for her portrait of People's Artist Quach Thi Ho. The latter is now preserved at the Vietnam Fine Arts Museum.
Master painter Can once commented that "Bich's works are created from instinct and emotion".
Professor Nora A Taylor from the Chicago Fine Arts Academy, meanwhile, said Bich embodies the changes to Vietnamese art and history over the past century.
"I won my first art award when I was 27, for Mẹ và Con (Mother and Child), which captures a mother feeding her baby," she said.
"That was a difficult journey, because I was away on business when the contest was held. And when I arrived at the exhibition, I found that the painting was not going to be displayed because of 'censorship'.
"Fortunately, painter Can and an arts specialist from the Polish Institute of Fine Arts happened to see it and said it had to win first prize. So, I think the win involved a bit of luck."
Her field trips to many different parts of Vietnam gave Bich all the inspiration she's ever needed as well as a lifetime of memories.
"Once I went to Hai Duong Province and visited a local family," she remembered. "I was told that their 16-year-old son had put stones in his pockets so he weighed enough to join the army. When he died on the battlefield, they asked me to help because they didn't have any pictures of him. So I drew his portrait, based on their descriptions.
"I never knew for sure if it looked like him or not, but the mother said it did. I believe it was the image of her son that she had in her head. She invited me for a meal of crab soup she had just cooked, which was quite moving."
While she's dedicated her life to art, an exhibition has never come her way before because of financial constraints and the imperatives of life and family.
With support from the French Embassy in Vietnam, Bich was finally able to realise her dream: having her works introduced to the public in a solo exhibition.
Retirement for many is a time to relax, but Bich is actually more dedicated to art than ever and paints more often. She sketches wherever she may be, and still creates silk paintings at home. The passion of her youth has followed her into old age.
"I have one piece of advice for young artists: read books," she offered. "It helps expand your mind and improve your aesthetics.
VNS

An exhibition entitled 'Tale of Kieu through paintings' opened at the Vietnam National Fine Arts Museum on November 18 to celebrate the 200th death anniversary of great poet Nguyen Du.