The American Center in Hanoi will hold a workshop on music and dance therapy for Vietnamese veterans from 10:30 to 11:30 a.m. on Tuesday, May 7.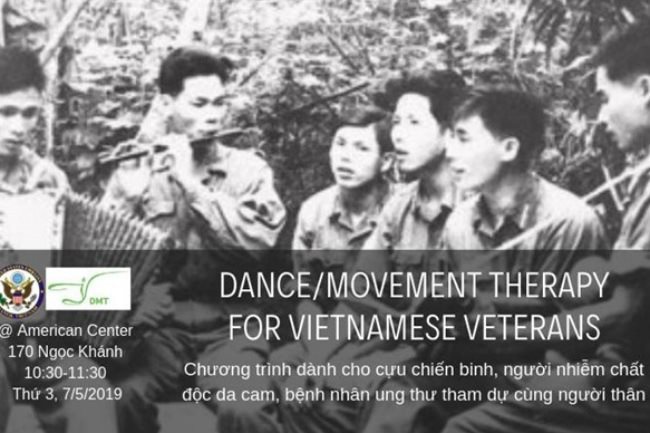 The workshop will help heal the pain for veterans through music and dance therapy - PHOTO: COURTESY OF ORGANIZER
The workshop will be led by Bui Tuyet Minh and Bryan Charles Wilson. Minh is a movement therapist who graduated from Sarah Lawrence College and has been a pioneer of dance and movement therapy in Vietnam since 2015, while Wilson is an American cellist, composer, music educator, and author of the famous book "Cello Chords".
Minh and Wilson will introduce dance and movement therapy approach accompanied by music for veterans living with cancer or agent orange consequences, and share some music and traditional dance, which will help heal the pain they are suffering from the war and illness to find meaning again in their life.
Dance and movement therapy is an effective way to address physical, cognitive, social, and emotional symptoms affecting the veterans. In dance, there are elements of poetry, music, drama, and all these art forms will be applied in a healing process.
This will be the first music, dance and movement therapy workshop for Vietnamese veterans, preparing for a longer project for veterans across the country. The event offers free entry.
For registration, call 0945 370 0186 or email to vietnamdmt@gmail.com. SGT