Asia Music & Performing Arts Education has just announced that it will become the sole translator and distributor of globally reputable music teaching books exclusively published by Alfred Music, the world's leading music publisher.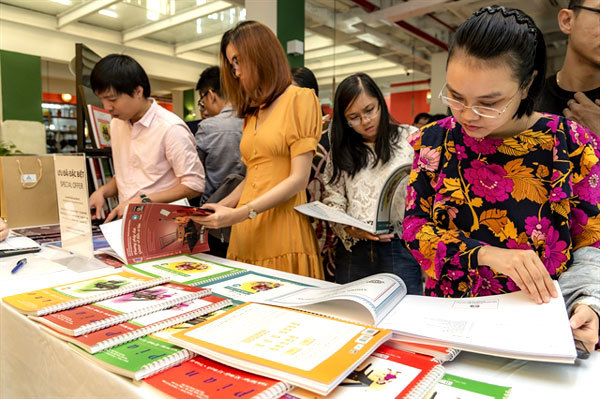 Vietnamese readers at the Alfred Music's book-launching ceremony. – VNS Photo
Asia Music & Performing Arts Education (AMPA Education) said that becoming a distributor of Alfred Music is part of its journey of bringing music to all Vietnamese children.
In this first stage, AMPA Education will deliver piano, guitar and voice publications.
The first editions in Vietnam will include new Vietnamese titles such as Alfred's Basic Piano Library by Willard A. Palmer, Morton Manus, and Amanda Vick Lethco.
It includes two versions for pre-school and primary school children, with content that inspires young children's learning.
These books provide age-appropriate piano methodology for beginners, accompanied by high-quality backing tracks.
The Vietnamese version of Alfred Music's Basic Piano Library will combine lessons, techniques and theory into one, equipping students systematically with both theory and practice.
The other book is Basic Classical Guitar Method by Scott Tennant, one of the world's best-selling guitar book writers.
The series, including three books, features step-by-step instructions from basic to advanced techniques for classical guitar learners, with detailed and easy-to-understand instructions and creative illustrations, accompanied by high-quality backing tracks.
Singing for the Stars was developed by Hollywood's leading vocal coach Seth Riggs. He is known as the vocal teacher of Michael Jackson, Anita Baker, Natalie Cole, Thanh Bùi and hundreds of other internationally acclaimed singers.
Pham Doan Ha My, executive director of AMPA Education, said: "We are very thankful for the support of Alfred Music in believing in our vision of giving more Vietnamese children access to music education. Our kids will finally have the opportunity to experience one of the world's most popular titles and learn beloved tunes that millions of children around the world know.
"From the fun illustrations to the focused pedagogy, and now in both Vietnamese and English, AMPA Education hopes these books will be a pathway to bring music to every Vietnamese soul in a simpler, easier and more affordable way."
Alfred Music is the world's leading music publisher, providing educational, reference, pop and performance materials for teachers, students, professionals and hobbyists, covering every musical instrument, style and level.
Since 1922, Alfred Music has helped over 10 million people learn, teach, and play music through their pedagogically sound products.
VNS