Two rare and valuable antiques dating from the reign of King Tự Đức (1829-1883) have been stolen from their worship site at Hiền Sỹ Village's communal hall in Phong Điền District, the central province of Thừa Thiên-Huế.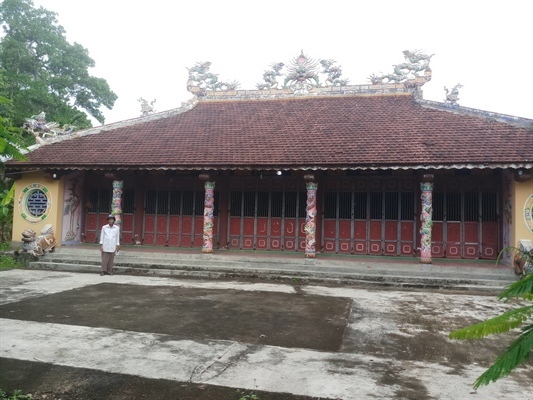 Hiền Sỹ Village's communal hall inPhong Điền District,the central province of Thừa Thiên-Huế. Photo baovanhoa.vn
The theft of the ancient artefacts was discovered after a villager, Nguyễn Trung, who is responsible for guarding the hall, checked on the building and saw the side door open with the locks destroyed.
Trung said as usual, on the full moon of September in the lunar calendar which fell on Sunday, he went to the communal house to clean and burn incense but saw the side door had chisel marks and the latch was broken.
Trung went inside and found that the precious items had been removed from one of the altars.
"I immediately checked the two altars inside the temple, one was intact but the other had lost two artefacts that dated back to the reign of King Tự Đức," said Trung.
The villager revealed the remaining artefacts, including five sets of copper censers and a copper gong worth tens of millions of đồng, were still in the temple.
"Maybe the thieves just wanted to take the ancient items," he said.
Trung immediately informed the temple management board about the incident.
Lê Ngọc Biên, head of the board, said that the two stolen artefacts were a vase and a jar, both made of porcelain covered in white and blue enamel.
According to the official, the artefacts were all preserved and stored carefully in a cupboard and were only displayed on important occasions. This suggests the theft was premeditated.
Trịnh Đức Hùng, Chairman of Phong Điền District People's Committee, said he had ordered the People's Committee of Phong Sơn Commune and related units to coordinate with the district police to investigate the case.
"The criminals seem professional as they planned the theft and prepared in advance. That's why they chiselled the wall and broke the door latch to break into the main hall of the temple," said Hùng.
According to the official, this was the first time such precious ancient artefacts have been stolen in a professional manner.
A number of burglaries have been reported before, with worshipping items, mainly copper censers, stolen by young people to sell, said Hùng.
"In this case, the thieves targeted precious artefacts and left less valuable items," Hùng added. VNS