Vietnamese boxer Nguyen Thi Tam has become the country's latest Olympian to qualify for the upcoming 2020 Tokyo Olympics in the women's under 51kg category, taking the total number of Vietnamese participants in the global competition up to 18.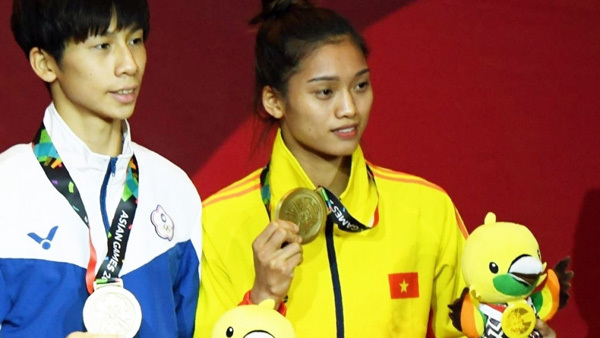 Vietnamese boxer Nguyen Thi Tam (R) is the country's 18th Olympian to qualify for the upcoming 2020 Tokyo Olympics.
Tam's qualification also marks the first time that a female Vietnamese boxer has won a spot to compete at the Olympics.
The news comes after male boxer Nguyen Van Duong also earned a place at the upcoming competition in Japan.
Tam is an outstanding national athlete who has had notable successes in international contests, including winning a gold medal at the 2019 Southeast Asian (SEA) Games, a bronze medal at the 2018 Asian Games (ASIAD), and coming first at the 2017 Asian Women Boxing Champion.
The Vietnamese sport delegation will participate in the Tokyo Olympics in Japan between July 23 and August 8.
At present, a total of 18 local athletes have won Tokyo Olympics spots to compete in taekwondo, swimming, gymnastics, boxing, badminton, rowing, archery, weightlifting, shooting, and track-and-field.
Source: VOV

Boxer Nguyen Thi Tam is expected to earn a ticket to compete in the women's 51kg category at the upcoming Tokyo Olympics.