Quang Binh, which served as the setting for American blockbuster film Kong: Skull Island, is once again in use as a natural studio.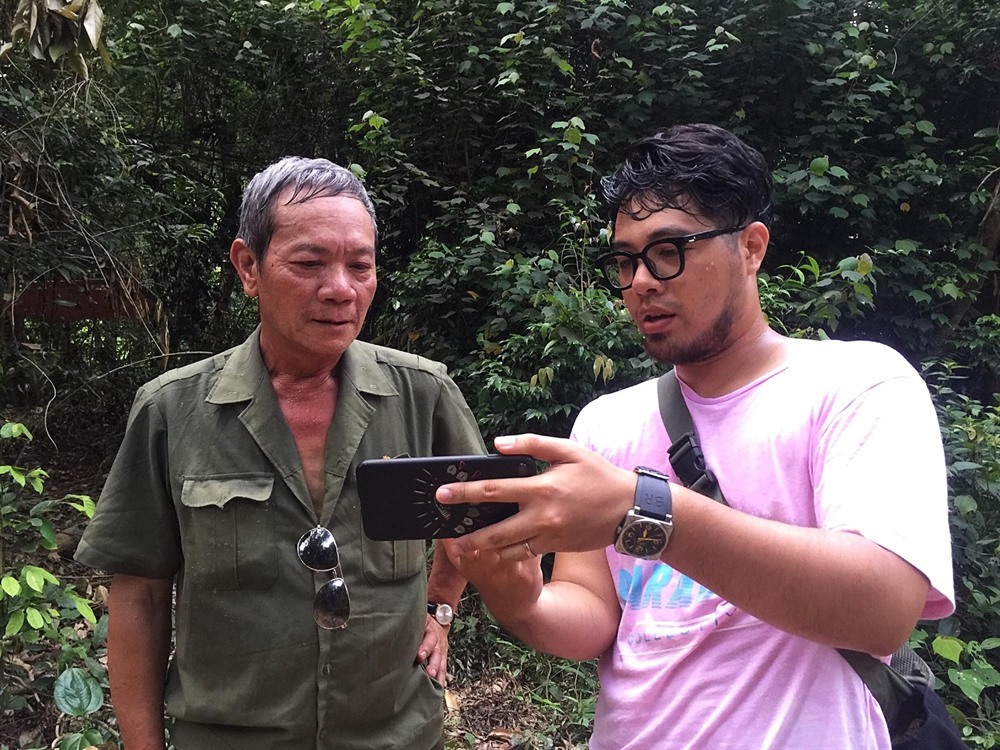 Director Đinh Tuấn Vũ (right) and actor Quốc Trị seen during the filming of the war-themed movie Truyền Thuyết Về Quán Tiên (Legend of Quán Tiên). Photo courtesy of the film crew.
This time, Vietnamese war-themed movie Truyền Thuyết Về Quán Tiên (Legend of Quán Tiên) is filming in the stunning area.
The movie, adapted from a novel of the same name by late writer Xuân Thiều, finished casting three months ago and has recently started filming.
The State-funded movie is being made to celebrate the 70th anniversary of the heroic army unit 559 or the Trường Sơn Army Division, which is a transportation and logistical unit of the People's Army of Việt Nam (19/5/1959 – 19/5/2019).
Set during the American War in the late 1960s, the movie is about three young women who are all youth volunteers. Living together in the jungle to support the army's logistics and build road, they have to cope with fierce and life-threatening moments every day. The three women form a strong bond and an unlikely connection with a mischievous gibbon.
The movie is a project of director Đinh Tuấn Vũ, who created his fame with Và Anh Sẽ Trở Lại (And I Will Come Back) in 2014 and the award-winning Cuộc Đời Của Yến (Yến's Life) in 2015.
Actress Thúy Hằng, who won the Best Actress award at the National Film Festival in 2015 for her role in the Cuộc Đời Của Yến, is one of the main actresses of this war-themed movie.
Hong Ngat Film, in collaboration with Joint Stock Company DV&H Creative, is the producer.
Art house
Unlike many other young directors, Vũ has not hesitated to embrace art house.
According to the 30-year-old director, art house is a long and challenging journey which helps him accumulate valuable experiences. After graduating from the Việt Nam National College of Cinematography in 2011, he decided to "enlist" with the State-owned Việt Nam Film Studio.
Born into a family whose members also used to work in the cinema industry, Vũ said movies had been a major part of his life since he was small.
Many people doubt his success because he is the son of the head of Department of Cinematography Ngô Phương Lan.
"Actually, I regard their doubt as motivation to push me to work harder than other people," he said. "Anyway, my hard work as well as the labour of our crew have been recognised by international awards. I hope the audience can enjoy my films, not my family profile."
When he was student, his debut movie Sau Bức Rèm (Behind the Curtain) brought him the Young Talent Award. His short film Khẽ Chạm (Touching Lightly) was honoured at the Golden Kite Awards of the Việt Nam Cinema Association in 2010.
In addition to grabbing several awards at the Golden Kite Awards in 2015 including Best Feature Film, Best Director and Best Music, his movie Cuộc Đời Của Yến won the Grand Festival Prize at the World Premieres Film Festival in Manila, the Philippines in 2016. — VNS