Dinh Van Son of HCM City is displaying his latest paintings and sculptures about the life of a young couple at the city's Fine Arts Museum.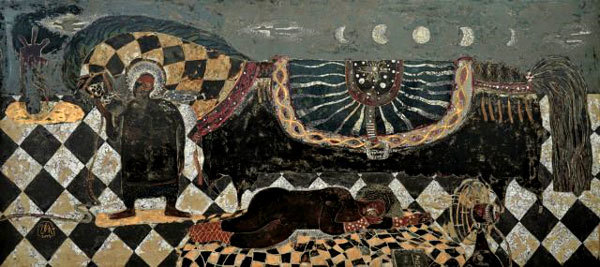 Nghìn Lẻ Một Đêm (A Thousand and One Nights), a lacquer painting by Dinh Van Son, which is on display at his first solo exhibition "Hạnh Phúc Nhỏ Trên Tầng Gác Mái" (Little Happiness in an Attic) at the HCM City Fine Arts Museum. Photo courtesy of the artist
"I spent three years creating these works for my first solo exhibition. The works feature the happy life of a young couple living on the top floor of a fifth-floor walk-up apartment in District 9," he said.
The exhibition, titled Hạnh Phúc Nhỏ Trên Tầng Gác Mái (Little Happiness in an Attic), include 72 lacquer works and paintings, ceramic statues, and lacquer sculptures.
The highlight is a pair of lacquer painting and ceramic lacquer statues called Con Người (Human), a portrait of the artist.
The centre of the painting is a person who carries the sun on his shoulder and contains the whole world in his belly.
"This character's belly can contain anything, including food and drink, and even a human being's desires and wishes," the 36-year-old said.
"The painting reveals our inner mind. Through the work, I want to send a message that people should be honest to themselves. They should acknowledge both their human and animal nature, and try to balance them."
The painting Con Người won third prize at the 2019 HCM City Biennale Art Exhibition for Young Artists, which was organised by the city's Fine Arts Association in April.
Accompanying the painting was a 1.72 m-high statue, which is a replica of Son.
Son's favourite work at the current exhibition is a ceramic statue of an angel called Cám Ơn Mùa Xuân (Thanks for the Spring), which was created after his daughter was born on the fifth day of Tết (Lunar New Year Festival) 2018.
"The arts are hard work so we didn't dare have a baby, but it was the most wonderful thing that happened to our family," he added.
In the exhibition, paintings such as Câu Chuyện Tháng Giêng (Story of January), Nghìn Lẻ Một Đêm (A Thousand and One Nights), and Con Ngựa Đỏ (Red Horse) depict the family's life in the attic.
Son, a native of Nam Dinh, has also depicted struggles which migrants have faced.
His paintings Chiến Thắng (Victory) and Vườn Trời (Sky Garden) feature victory in the fight against the temptation of city life and the battle to find happiness and joy.
Son graduated from the Fine Arts College in Dong Nai Province in 2005, and then from the HCM City Fine Arts University in 2015.
He was an art lecturer at the city-based Kent College from 2011-2017. Since then, he has spent time creating art at his home.
He has joined 13 group exhibitions in Vietnam and one in South Korea.
The Hạnh Phúc Nhỏ Trên Tầng Gác Mái exhibition will be open until October 13. The museum is at 92A Pho Duc Chinh Street in District 1. VNS