Vietnamese artists are welcoming the establishment of an electronic trading floor where involved parties can meet for transactions, assess the value of products, and support artists on issues related to intellectual property.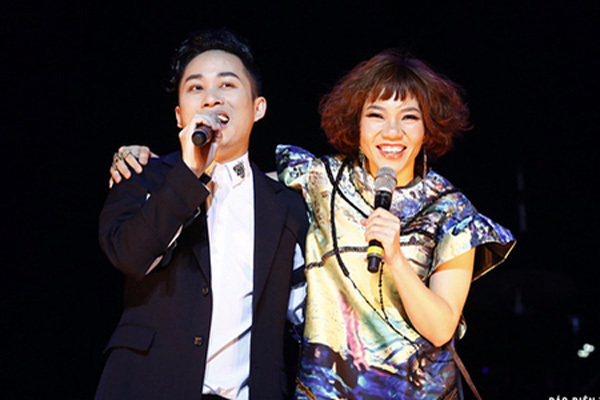 Singers Tung Duong (left) and Tran Thu Ha
Personal information, honoraria and creative products of Vietnamese artists now can be reviewed and assessed in a transparent way on Vietnam Artist Booking (VAB).
The trading platform can serve as a channel for transactions, product valuation and support in intellectual property, striving for Vietnam's showbiz industry development and integration.
There will be an official information portal and transaction channel on VAB that connects and manages orders related to performance schedules and creative product use.
Tang Ngan Ha, the founder of VAB, said the trading floor will create a civilized and transparent environment to protect and assess the value of artists' intellectual property.
Unlike developed countries, where the showbiz industry has existed for many years and the market controlled by prestigious distributors, in Vietnam, artists have been alone in the process of advertising, distributing and protecting their products.
With the establishment of the electronic trading floor, all products to be announced will be examined in a strict and transparent way, with authorization. There will not be any limitation on the fields of creativity of the artists. They could be singers, musicians, dancers, actors, models or writers.
Well known artists, including musician Do Bao, singers Tung Duong, Ha Tran, Luu Quang Minh and Tang Nhat Tue, have expressed their support about the establishment of the floor.

VAB is scheduled to make its debut in June. In addition to official agreements with artists in creative fields for their official entering the trading floor, there will be seminars and workshops on art works valuations, and copyright and intellectual property laws in Hanoi and HCM City. 
Tinh Le

Germany's Goethe-Institut will conduct two musical projects in Vietnam this year as part of efforts to introduce contemporary music based on linking artists living in Vietnam and Germany.

Copyright fees collected overseas for the use of Vietnamese music increased from nearly 2 billion VND (87,000 USD) in 2019 to more than 3.6 billion VND last year.