The Wildlife Street Art Bus Tour project on Sunday finished its journey through eight provinces, delivering a wildlife conservation message through street art murals.
 Street Art Bus Tour raises awareness about wildlife protection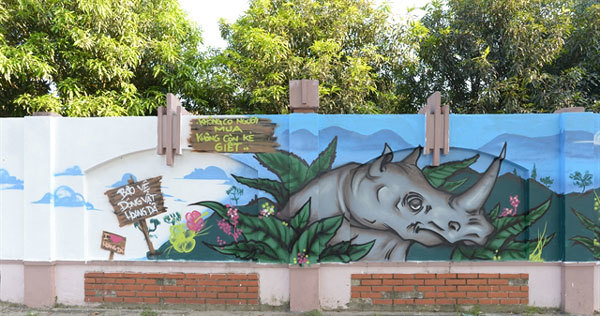 A mural painted as part of the project Wildlife Street Art Bus Tour. — VNS Photo Dao Nguyen
The project got international and Vietnamese artists involved including Bui Ngoc Trang (aka Trang Suby), Nguyen Hoang Hiep, An Chea, Lukas Harrer, Lee Kyui Young and Jack Clayton. They were joined by cameraman Brice Godard and photographer Dang Vinh Quang.
They created murals on outdoor areas conveying a message of protecting wild animals.
"It is a unique combination of advocating for endangered animals protection and street art murals," said Trang Suby.
"This style will help deliver our media campaign in a more interactive and meaningful way," Trang said. "By being part of the bus tour, it's an opportunity for me to show that street artists like us are also passionate about community services."
Even though Trang had to be away from his wife and their newborn baby girl for a month, he was still enthusiastic about the project.
Each year, 1,000 rhinos are hunted and killed for their horns, 33,000 elephants are killed for ivory and 100,000 pangolins are hunted for their skin and meat. Aiming to raise awareness about the urgent need to protect wildlife, AkzoNobel paint company created the project.
"We believe colour can talk," said Pamela Phua, General Director of AkzoNobel Vietnam. "That's why we support using colour to express messages on sustainable development, which is at the heart of everything we do."
"Those artworks make the message more approachable and help people have more insight into the issue, forcing them to protect vulnerable animals from extinction," she said.
VNS