Eleven months after its launch, the Appraisal and Exhibition Centre of Art and Photography under the Ministry of Culture, Sports and Tourism has carried out its responsibility inefficiently, according to experts.
Masters' artworks up for auction
VN painter's work sold at high price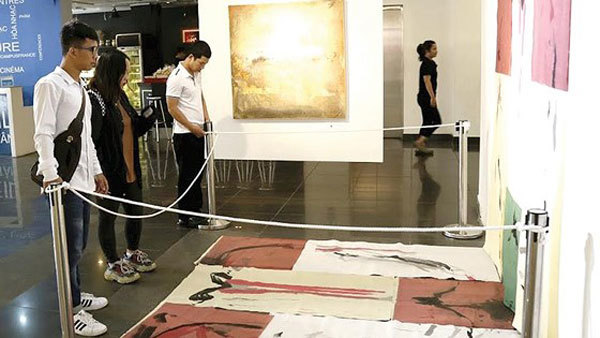 Demand for authentication of artworks and photographs in Vietnam has increased in a market filled with fakes. Photo courtesy of sqqp.org.vn
Authentication of artwork and photographs in many countries is done by organisation and individuals with authentication certificates, but Vietnam might be the only country where the appraisal centre is managed by the government.
The director of the ministry's Fine Arts, Photography and Exhibition Department, Vi Kien Thanh, explained that the centre was launched because of customers' lack of trust in the authentication process.
With the growth of the local art market, collectors, museums and photographers need to have their artwork examined and authenticated.
According to photography critic Nguyen Thanh, as copyright infringement in Vietnam remains a problem, it has become even more important to have an authentication unit conducting artwork examination.
"An authenticator is not only a good art creator but also one who regularly updates the market, understands the art and photography world, and has in-depth knowledge about the field," Thanh said.
Painting collector Le Hai Phong said that assessments increased the value of an artwork. Since collectors will be more confident about showing their artwork, the trading process will also become easier with authentication, he said.
Though some people are uncomfortable about handing over their work to authentication experts, it is still necessary to have a team of examiners standing by.
Bui Thi Thanh Mai, deputy director of the Viet Nam Fine Arts Museum, agreed that the success of the art market would depend on the authenticity of the art.
Controversies
Mai recalled the incident in which 17 fake paintings were shown in the exhibition "Những bức tranh trở về từ châu Âu" (Paintings Return from Europe), in 2016 in HCM City at the Fine Arts Museum.
These painting's fake status was determined by a management team and art experts, but the collector and owner of the paintings, Vu Xuan Chung, did not agree with their assessment.
Similar controversies have occurred, but they were not resolved because the artwork had not been authenticated.
"What makes it difficult for appraisal to be carried out in Vietnam is that it is a completely new job, and it requires certain kinds of technical equipment," director Vi Kien Thanh said.
Duong Thu Hang from the Ha Noi Studio Gallery said that two big galleries from South Korea had purchased many paintings of famed artist Bui Xuan Phai years ago, and since then, paintings allegedly by Phai had been sold in Vietnam.
However, no one has been willing to appraise Phai's paintings for auctions.
Mai added that two of the more common tricks in art fraud is forging the name of an artist or attaching the name of high-value artists.
There are numerous cases of fake signatures or unlawful usage of work by other artists, but collecting enough evidence to authenticate artworks can be difficult.
Many works of Vietnamese artists do not have proof that they are originals, thus increasing the risk of buying fake artworks, according to experts.
Mai suggested building a record of artists to help identify the origin of their works.
"Vietnamese artists usually do not care about how to protect their artwork's value and reduce art fraud. Building artists' records is crucial to protect intellectual property and one's image in a professional manner," Mai said.
Director Thanh said the Department of Fine Arts, Photography and Exhibition would maintain the activities of the Art and Photography Appraisal and Exhibition Centre until the work is taken over by an organisation in the private sector.
VNS