Le Thi Quynh Trang, chairwoman of Vietnam International Fashion Week and President of the Council of ASEAN Fashion Designers (CAFD), talks about Aquafina Vietnam International Fashion Week (AVIFW) 2020
and how CAFD supports designers in Southeast Asia as well as Vietnam during the COVID-19 pandemic.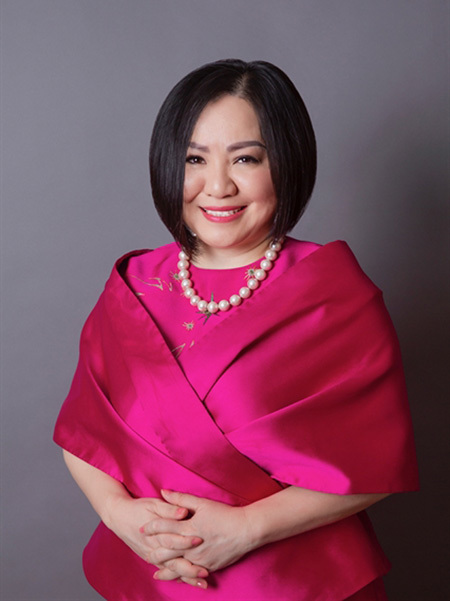 Le Thi Quynh Trang, chairwoman of Vietnam International Fashion Week and President of the Council of ASEAN Fashion Designers. — Photo courtesy of the organisers
Have you faced any challenges organising AVIFW during the COVID-19 pandemic? 
As we all know, the pandemic has caused economic losses for all countries. For the fashion industry, the world's leading fashion weeks and shows have been canceled, postponed or organised virtually. Under the guidance of the Government, the pandemic has been controlled well in Vietnam, bringing society to a "new normal" state. So, AVIFW has great sociocultural significance.
That's why we chose the AVIFW 2020 theme "The Future Is Now" as it is a "golden time" for us to strongly promote the Vietnamese fashion market to the world. With the presentation of fascinating collections by talented Vietnamese designers and associated events, AVIFW is not only an entertaining event but also a cultural bridge that helps to affirm the internal strength of Vietnamese fashion, and elevate its status around the world.
However, because of the impact of COVID-19, we've faced problems in organisational costs. In order to support designers, the organisers have reduced participant fees and have tried our best to ensure the best show.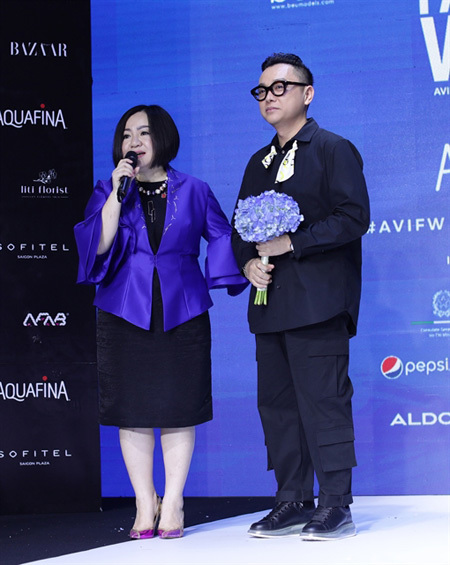 Le Thi Quynh Trang (L) with designer Cong Tri at the press conference of AVIFW 2020. Photo courtesy of the organisers
What do you think about the designs at AVIFW 2020?
Due to COVID-19, international designers and brands could not join AVIFW 2020 except for the brand Elisabetta Franchi from Milan, Italy, which owns a distribution chain in Vietnam, so they will introduce a new collection. All other shows are from Vietnamese designers and brands.
In the context of many global economic sectors' shift to online business and consumers' changes in fashion needs, highly useful and affordable designs are the priorities. So designers and brands should focus on creative and artistic designs, but still satisfy customers' tastes. Besides popular names like Cong Tri, Adrian Anh Tuan, Bao Bao House, Le Long Dung, and others, AVIFW 2020 welcomes new brands such as Mr. Crazy & Lady Sexy, Long NG, and others that promise to contribute to a colourful and impressive fashion event.
What does Cong Tri's comeback mean to AVIFW 2020? 
Cong Tri is one of the designers who has accompanied Vietnam International Fashion Week (VIFW) since the first seasons, introducing impressive collections. In 2019, he focused on brand promotion in the international market, so he could not arrange to show at VIFW. This year, after receiving an invitation from organisers and Aquafina brand, Tri did not hesitate and has dedicated his beautiful designs to the audience. The comeback of Tri, one of Vietnam's most talented designers, once again affirms the prestige, quality and meaning that VIFW has brought to not only the Vietnamese fashion industry but also each designer, helping to bring their fame closer to the public and potential customers.
AVIFW 2020 sees the participation of three young designers from local universities. Do you have any advice to help them develop their career in the future? 
With the expectation of strongly developing Vietnamese fashion industry, including fashion design training, AVIFW organisers in recent years have created opportunities for talented students from local schools to show their collections on the catwalk. This year, we collaborated with three prestigious schools, including the London College for Design & Fashion, the HCM City University of Architecture and the Hong Bang International University, to continue introducing designs from their outstanding students.
I highly appreciate their creativity in each design. However, what they are still missing is a clear brand development orientation. I believe after AVIFW, they will have experiences that will help them develop their careers.
What has CAFD done to support designers in the region and Vietnam as well? What is AFAB?
CAFD is a non-governmental organisation that aims to create cooperation in fashion among 10 ASEAN members and form a unified block to promote the regional fashion industry to new heights. It is the first fashion association established by the ASEAN Secretariat to help designers in the region develop their brands and business methods, and help ASEAN fashion grow further in the new era.
In order to help designers maintain their business during COVID-19, CAFD researched and developed AFAB (ASEAN Fabulous), an app which not only promotes talented designers' names but also lets millions of customers in the region and the world approach their products.
CAFD founders and I are working to select key personnel for each Southeast Asian country who will be a bridge to discover outstanding designers to participate in CAFD. The designers will introduce mini collections, while CAFD will support advertising (taking photos and videos) of their products via AFAB. The app allows designers and customers to directly contact and discuss ordering and product editing. The designers do not have to pay a fee to become a CAFD member. They will become representatives of Southeast Asian fashion in the world. Vietnam will be the first country to appear on AFAB, and I believe that designs by excellent Vietnamese designers will be welcomed by the world.
As CAFD president and AVIFW chairwoman, I give priority to VIFW 2020's participating designers and brands to introduce their products via AFAB. CAFD's communications department is conducting global marketing activities to promote AFAB. We believe and hope that as AFAB is officially launched, it will become an ideal online shopping channel for customers around the world.  VNS 

Le Quynh Trang, chairperson of Vietnam International Fashion Week (VIFW), has recently been appointed chair of the Council of the ASEAN Fashion Designers (CAFD). 

Seventeen designers and brands will present their latest designs at the 2020 Aquafina Vietnam International Fashion Week (AVIFW) in HCM City from December 3 to 6.