Director PIL Nguyen (real name Nguyen Phuong Phi), who has found fame from posting free online entertainment for children, has recently attracted the attention of net citizens with a series of more than 100 video clips on pagodas throughout Vietnam.
 Le Huong spoke with him about his pagoda project and his passion for cinema.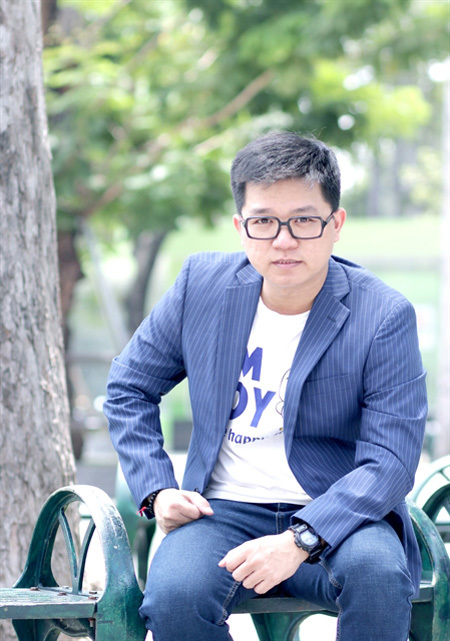 FILMAKER: Director PIL Nguyen. Photo courtesy of PIL Nguyen
Why did you choose to film pagodas?
I never actually considered producing such a series. But whenever I'm on business in the countryside and need to take a break, I do so at pagodas, as I feel they give me a new source of energy. Their peace and tranquillity not only relax me after hours of driving but also offer me the chance to access my inner soul and feel happier.
As a professional film maker, I want to make video clips as memories instead of taking photos. When I worked as a TV editor, I came across many interesting topics and stories about pagodas. I then shared them on my YouTube channel and encouraged people to visit pagodas rather than wasting their time at bia hơi (draught beer).
I have found that pagodas can bring a healthy power to people and encourage them to do good things. Pagodas often possess distinguished architecture and bear the characteristics of local culture and history.
They are often ancient relic sites associated with actual historical figures, and host various charity activities.
For example, Van Phat (Thousand Buddha) Pagoda in Ho Chi Minh City's District 5 has Chinese architecture and more than a thousand Buddha statues.
Dieu Quang Pagoda, also known as Cay Trom Pagoda, in Tan An City, Long An Province, is home to a 400-year-old Bottle Tree. The tree has been recognised as a heritage item, with a height of 25.5 metres, a circumference at its trunk of 8.5 metres, and a canopy diameter of 33 metres.
Or Phu Ly Pagoda in Binh Minh Town, Vinh Long Province, which has existed for 350 years and is a combination of Cambodian, Indian and Thai architecture.
Besides those with unique architecture, there are also pagodas that provide home to orphans or free health checks for the poor, like Ky Quang 2 Pagoda in Go Vap District, La Pagoda in Nha Be District, and Van Tho Pagoda in District 1, all in Ho Chi Minh City.
I have filmed 250 pagodas, mostly in the south, and have posted 136 clips on my YouTube channel.
Filming has been impossible because of COVID-19 but I've been editing clips from previous shoots.
I could continue the series forever, until I've filmed the last pagoda in Vietnam. I have no number of clips in mind. Everything happens by chance, and I have shared interesting stories I've seen at pagodas.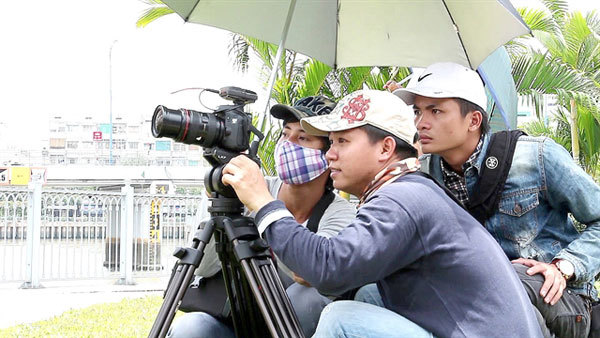 IN THE FRAME: PIL Nguyen and his team at work. Photo courtesy of PIL Nguyen
What about your community cinema project?
Cine for You (CFU) is a not-for-profit project that started in March 2017. In my ten years as a TV editor, I found many topics not yet covered by films or TV programmes. Some friends and I decided to get the CFU project off the ground to promote our media products, which we believe are meaningful for the community. I chose to release them on YouTube so that as many people can see them as possible.
We are ready to co-operate with other channels to broadcast our videos and films. I want CFU's education and entertainment clips to reach a larger audience, and I hope they can link us with investors in the future.
I also want to bring our clips to people in remote areas. I believe the clips in the CFU project, though not perfect, are clean in both content and imagery.
I'm lucky to have four friends who have been with me since the beginning of the project. They have various backgrounds: two work at media companies while the other two run their own businesses. And I'm a freelancer in producing video clips, music videos, and viral videos.
They all wanted to join me in making media products for the community. I trained those with no skills in making films, and they now know how best to do it.
I heard about the music video Lời Cảm Ơn (Thank You), which you recorded during the social distancing period. Can you tell us more about it?
I studied music at the Ho Chi Minh City Culture and Arts College, so I love composing songs. The idea around Lời Cảm Ơn had been with me for a long time. I have received a lot of support from different people, including my parents, siblings and friends. I wanted to say "Thank you" to all of them, and much more besides. This is why the song remained on paper for a very long time before I recorded it. In April, when everyone was staying at home during the social distancing period, I saw many putting their own health at risk to fight the pandemic, especially doctors, nurses, and the armed forces. I was extremely moved, and so recorded Lời Cảm Ơn.
I wasn't able to invite any artists to be in the video, so I sang myself and took images about the fight against the disease and used paintings by students.
What is your philosophy about the arts?
Just one word, "Touch".
I believe that any artistic product, whether cinema, drama, music, or painting, should touch the audience.
What are your plans for the next few months?
I will continue posting video clips about Vietnamese pagodas. The CFU project is offering online films for children and families, like the web drama Người Bạn Nhỏ (Little Friend) and a series entitled Gương Thần (Magic Mirror). Early next year, CFU will release romantic films for the young, with the message "Useful Life". VNS

PIL Nguyen won first prize at the #HowAbnormal filmmaking competition held by the UN Development Programme (UNDP) and VTV6. His short film I Love You, Mom! also saw Vu Hoang Linh Chi, who played the role of the little girl Tam, win the Best Acting prize. 

Online entertainment providers are enjoying a surge in users as social distancing and COVID-19 force people to stay at home.

The Xiem Can Pagoda in the Mekong Delta province of Bac Lieu has attracted many visitors with its splendid beauty and great hospitality of the local people.