Practise. Practise hard. Practise harder. Boxing coach Dinh Phuong Thanh urges her players to maintain their strong physique and spirit for upcoming tournaments, even though none of them are certain to be held because of the COVID-19 pandemic.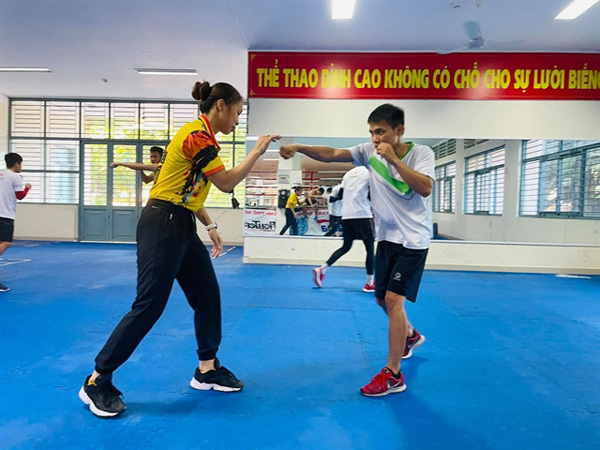 Coach Dinh Phuong Thanh (left) practises with her potential boxer Nguyen Linh Phung at the HCM City Sports and Training Centre. Phung is expected to compete at the coming SEA Games. Photo courtesy of Dinh Phuong Thanh
Both coach and fighters are ready to depart for any event at the drop of a hat.
"We have been banned from entering and exiting the National Sports Training Centre 2 since the fourth wave of the pandemic hit Vietnam, especially when HCM City also had cases. The ban prevents us from doing many activities but actually, it keeps us safe," Thanh told Việt Nam News.
There were several local events held in the first four months of the year, but since early May, everything has stopped and some tournaments which are planned for the next few months have been postponed.
International competitions are at risk of suffering the same fate.
Japan's government says it will hold the Tokyo Olympics this summer no matter what but the majority of residents oppose holding the event, with up to 80 per cent against hosting according to some surveys.
The 31st SEA Games in Hanoi this winter are also in peril even though there are about six months to go.
"Postponement and cancellation make us really disappointed. News of the Olympics, news of our delayed to an unknown date national championship make me bored. It sucks!" said Thanh.
"It strongly affects our determination and gets our mood down. Some of my players tend to relax because they feel we are working for nothing. To solve the problem we have to change our schedule and make the new one suitable for the new situation," said Thanh.
Following the new timetable, boxers train every day and after several weeks, coaches organise mini bouts to test their skills.
Athletes keep working hard to make sure their best form for tournaments. Photo courtesy of Dinh Phuong Thanh
"For combat sports like boxing, competition is really important. It helps boxers raise their competitiveness, experience and fighting characteristics and boost their confidence," said Thanh
"In this situation, as a coach, I have to push myself first and then my athletes. I give them exercises to improve their physical strength and fix their technical mistakes.
"One of my athletes, Nguyen Van Duong, earned his slot at the Tokyo Games. This time he is the centre of the team. All the best conditions are for him to prepare for the tournament. Meanwhile, athletes who will take part in the SEA Games also receive special care. We will make sure they are at their peak when they take part in competitions," said Thanh.
The shooting squad is also training within the centre's camp.
"Practising safely is our priority. Due to the complicated events, we have switched to live and train together here. None is allowed to go out," said coach Ho Thai Tam.
"They have to work in the gym to improve their physique for one and a half hours per day after up to eight hours practising their profession. These keep athletes stay on high alert as we could be back in action at any time," he added.
Also in HCM City, swimmer Nguyen Thi Anh Vien has spent months training.
"It is tiring spending all day in the centre. But I think that it is otherwise good for our training. We work like normal; what's abnormal is that we are short of competitive feeling. My free time is for studying," said the multi-time SEA Games champion who is now a student of the Sport and Physical Training College 2.
National javelin champion Nguyen Hoai Van said being locked in was no problem.
"Out there, many people are strongly affected by the pandemic. We are here in a big healthy and safe environment. We are the lucky ones in the period of social distancing," he said. 
Accept and overcome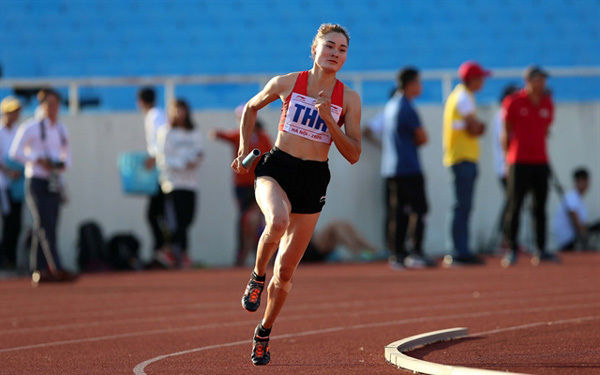 Quach Thi Lan runs at the 2020 National Athletics Championship in HCM City. Lan has to follow new plans to adapt new situation in COVID time. Photo tinmientrung.com
Thousands of kilometres from HCM City, athletes at the Hanoi's Sports Training Centre 1 have also been working with the new rules.
"The pandemic is ongoing so difficulties are everywhere. It affects us too but we can manage it," Asian 400m champion Quach Thi Lan told Việt Nam News.
Lan, who is expected to be a Vietnamese athletics representative in Tokyo, said she became familiar with the new rules after several weeks.
Both coaches and athletes have tried to make the best of the situation.
Athletes are divided into smaller groups and train at different times, focusing on physique and speed. 
"For a long time, we did not have any intensive training course or international tournaments that are really useful to boost our ability and strengthen mental toughness.
"Besides coaches' exercises, I set up my own programme to make sure I'm at my best in both technique and spirit. It is a long way to go before big events," said Lan.
Coach Nguyen Manh Hieu said to encourage athletes and test their ability, internal competitions will be held regularly, with bonuses and fines on the line to make them and more competitive.
"They must use 100 per cent of their capacity to take part in and win the events. This helps us to know where we are and realise our weaknesses. We will fix and improve while awaiting real competitions," he said.
According to Dao Quoc Thang, director of the Hanoi Training and Competition Centre, the pandemic had created many challenges for athletes, coaches and managers.
"We have to make sure of their safety while training. We clean and sterilise our facility and equipment regularly. Athletes must declare their health status, check their temperature and wash hands with sterilising liquid before their training. 
"We must also ensure their nutrition over months. The difficulty is that nobody knows when competitions will return to build suitable plans for them," said Thang.
"Training only and no competition will hurt their performance and results. Tournaments have stopped but elite athletes can't rest. Only several days of relaxing will take them up to three weeks to gain their form back. In this COVID period, how to train best and eat well are really tough issues," he added.
According to Le Thi Hoang Yen, deputy head of the National Sports Administration, the postponement of all tournaments was a necessary decision.
"We understand athletes' feelings and wishes. But it is to protect them and the community while the whole country is fighting against the pandemic. All national centres which are home to elite athletes, many of them have been vaccinated recently, are doing well in pandemic prevention and control," said Yen. 
She said athletes across the world are suffering the same problems and people must stay strong to overcome this challenge and put safety first.
Source: Vietnam News

Going through a 2020 full of upheavals, the biggest success of Vietnamese sports was to sail through the obstacles caused by the COVID-19 pandemic to successfully organise and complete the majority of events, tournaments and plans.

It is likely that the 31st SEA Games, which is scheduled to take place from November 21 through December 2 in Vietnam, will be postponed because of developments of the Covid-19 pandemic in Vietnam and Southeast Asia.