Vietnam won eight gold medals at the Vietnamese Traditional Martial Arts World Cup, which closed in the French city of Marseille on Sunday.
Vietnam's vovinam takes on the world
Takhado – Vietnamese martial arts with rake as a weapon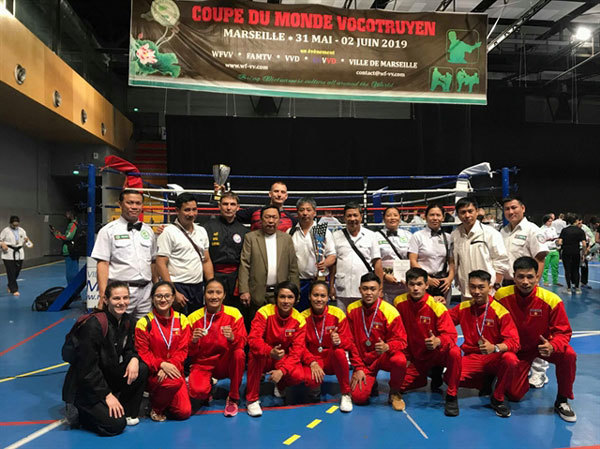 Vietnamese athletes pose for photo after winning gold medals at the Vietnamese Traditional Martial Arts World Cup in France. — Photo webthethao.vn
The team finished second behind the hosts, who secured nine golds.
Vietnam sent a delegation of 10 athletes to the first Cup, competing in both the combat and performance categories.
The winners in the combat disciplines were Nguyen Thanh Khiet (men's 55kg) Vu Truong Giang (men's 65kg), Nguyen Thi Hang Nga (women's 52kg) and Nguyen Thi Tuyet Mai (women's 56kg).
The winning performers were Duong Quoc Cuong, Dang Van Hop, Nguyen Thi Tuyet Trinh and Nguyen Thi Tuyet Nhung in the men's and women's standard and freestyle events.
"Athletes have improved a lot compared to competitions that I took part in the past," said Khiet after taking his title. "They were much more skilful in technique and their moves are stronger."
The tournament gathered nearly 300 athletes from 32 teams representing 18 countries.
Vietnamese martial arts are developing in 68 nations and territories over the world under the name of Việt Võ Đạo or Vovinam.
Organisers said they expect the martial arts will be practiced in 100 nations and territories by 2030.
VNS