Dam Sen Park under Saigontourist Holding Company has been honored as one of five best tourist and entertainment sites in Vietnam by the Ministry of Culture, Sports and Tourism and the Vietnam Tourism Association.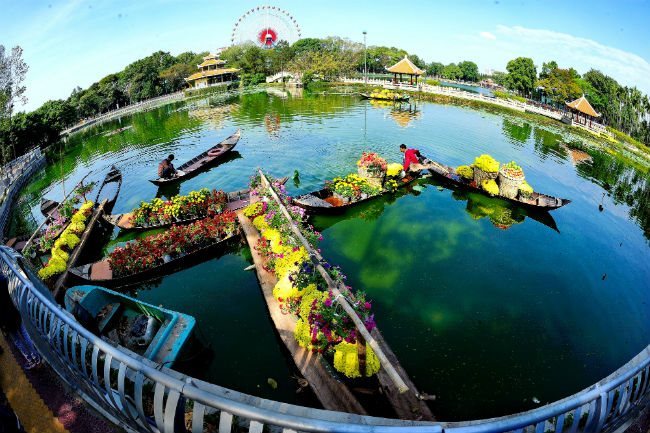 Dam Sen Park is hosting many attractive events this month - PHOTOS: SAIGONTOURIST
On this occasion and in celebration of the 44th birthday of Saigontourist, Dam Sen has launched a number of attractive promotions.
Incentives for children
Children below 1.4 meters tall will be entitled to free entrance tickets or a 50% discount on full package tickets (VND80,000 per kid) from now until August 30. The promotion is not valid for groups of tourists led by travel companies.
With free entrance tickets, children can visit Nam Tu Thuong Uyen Flower Garden featuring 3D ocean walls, the orchid island where seven giant hai tuong fishes (Arapaima gigas) are raised, the cactus garden with a 10-meter cactus from Sahara desert, the semi-wild bird garden with a couple of black swans from Australia, and the zoo with giraffes, zebras, hippos and orangutans.
Kids buying full package tickets will have access to 15 games in the kids' zone and other games such as monorail and wonderful castle.
Attractive events in August
Earlier, the semi-final and final rounds of Angel Star's Talent 2019 were held on August 3 and 11, respectively. The contest was open to children from four to 14 years old, offering a chance for them to show their talents such as singing, dancing and modeling.
Prizes were worth a total of VND50 million. The winners also received 20 scholarships from Viet Angel Academy and 100 Dam Sen's full-package tickets.
On August 17 and 18, the park will organize a puppy festival. Last year, the festival attracted 100 breeds of dogs such as Akita Inu, Bulldog, and Dalmatian. Specifically, Alaskan Malamute dogs pulled a sled around the park to entertain visitors.
Over the past several years, Dam Sen Park has invested in many new games such as power surge, wonderful castle, Pokids, square of seven world's wonders, Hung Kings square, and giant 3D water screen. SGT
Thanh Van