The international-award winning movie Ròm will have its premiere in theatres nationwide on September 25 after being delayed in July due to the COVID-19 pandemic.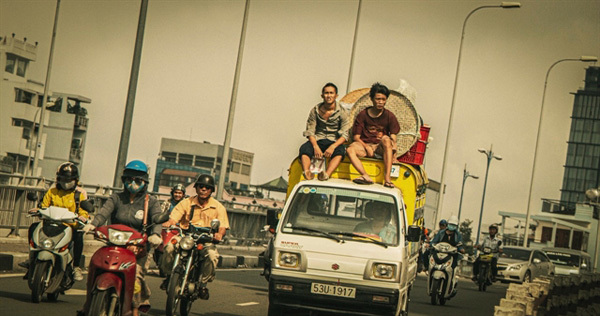 A scene from Ròm – the first Vietnamese film win the top award in the 'New Currents' section in the Busan International Film Festival. The movie is set to have the Vietnam premiere on September 25 after a delay in July due to the COVID-19 pandemic. — Photo idolvnnet.com
The debut of young director Tran Thanh Huy, the film was the first Vietnamese one to win the top award in the 'New Currents' section at the Busan International Film Festival in October 2019. However, the production company behind the film was fined VND40 million (US$1,700) for participating in the festival without a screening licence from the culture ministry. 
In April, the movie received a licence to be screened in Vietnam and was due to premiere on July 31. However, the outbreak of the COVID-19 second wave postponed the schedule.
Ròm was developed from Huy's graduation thesis short film entitled 16.30, which won the Golden Kite Award of the Vietnam Cinema Association in 2012 before being screened in the Short Film Corner Category at the Cannes Film Festival 2013.
Recently, on August 27, the drama won the Best First Feature at the 24th Fantasia International Film Festival in Quebec, Canada.
The drama revolves around the life and fate of street children selling lottery tickets every afternoon. The main character, a homeless teenager called Ròm, dreams of earning enough money to find his biological mother. He also has to survive through constant battles on the street.
Film critic A.W. Kautzer of the Movie Isle – a website on film review wrote: "Ròm is not some cry for help but rather shows us life as it is for its characters. They see the injustices but never bemoan the system, these characters move forward in the way they know how, sometimes violently, sometimes with grace. There is a viewpoint that is unmistakably fallible and by that end human in Ròm both the main character and film that gives the film a verisimilitude few of ilk have."  
At the end of 2019, Ròm became the centre of media attention as its producers registered and submitted it to the Busan International Film Festival when it had not been granted State approval.
This violated the revised Cinema Law 2009 which states films participating at film festivals must have either a distribution licence issued by a State management agency or a broadcasting decision by the head of a television or radio station.
The film took eight years to complete. Before shooting Ròm in June 2016, the director brought his project around the world attending workshops, film markets and young film producer courses. He wanted to prove to producers and investors that Ròm was a good movie that deserves to be made. Ròm was shot in two years and the editing time was three years. After editing, Huy used crowdfunding for sound-making in France.  VNS
The Vietnam premiere of the film Ròm on July 31 was delayed due to the COVID-19 pandemic. Previously, the production company behind the film was fined VND40 million (US$1,700) for participating in