The Bai Coi archaeological site in the central province of Ha Tinh holds clues to understanding the history of Vietnam. It was recognized as a National Relic in 2014 by the Ministry of Culture, Sports and Tourism.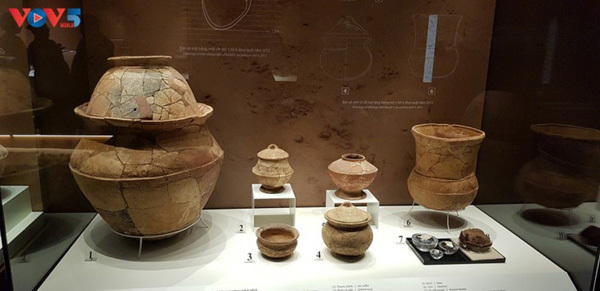 Objects found at the Bai Coi Relic Site. (Photo: Ngoc Anh/VOV5) 
The site includes Bai Coi and several places surrounding it in Xuan Vien Commune, Nghi Xuan District. The area is located at the foot of Hong Linh Mountain, by the La River, the natural border of Nghe An and Ha Tinh provinces.
Bai Coi is a complex of tombs scattered in a large area. There are two forms of tombs: bodies buried in soil and bodies buried in ceramic jars. After many excavations, the site has been proven to bear the characteristics of both Dong Son and Sa Huynh civilizations dating back thousands of years.
"Many objects unearthed at these sites remain intact and have proved this was the meeting place of the Dong Son and Sa Huynh civilisations. Ceramic jars found here are believed to belong to the Sa Huynh civilization but have the decorative patterns from Dong Son and vice versa," said Tran Phi Cong, Director of Ha Tinh Museum.
Ceramic jars in Bai Coi are smaller than those in Sa Huynh in the central province of Quang Ngai, mainly egg-shaped or mango-shaped. These types of jar coffins have also been found in Quang Nam and Thua Thien Hue provinces. The jar lids vary with shapes of a truncated cone, pot or bowl. Large jars were buried in the middle of a circular area, covered with soil to the shoulder of the jars with other burial items placed around it. In some ceramic jars there are burnt human bones.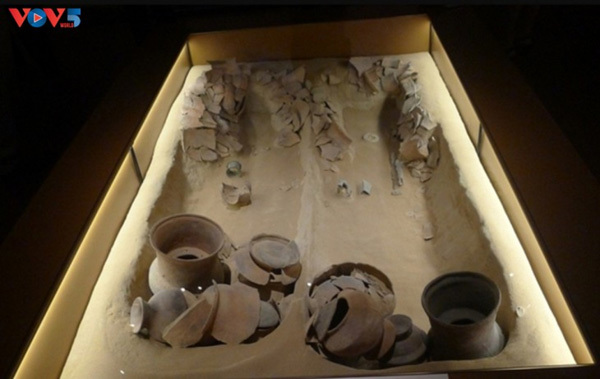 The replica of a tomb unearthed at Bai Coi. (Photo: Ngoc Anh/VOV5) 
"Findings at the site changed previous assumptions about the two civilisations: Dong Son and Sa Huynh. In our third excavation, it was found that this area was first inhabited by Sa Huynh people then Dong Son people. This is a very unique feature of Bai Coi," said Nguyen Manh Thang, Head of the Archaeological Research Division of the National Museum of History.
Soil tombs are a common way of burial for people of Dong Son culture and have a later date compared to the jars. Scientists found many soil tombs cut across jar tombs, which had been buried before with shattered ceramic items arranged along the border of the tomb, separating the burial center.
This burial form is similar to soil tombs found at Vac Village Relic Site in Nghe An Province, a relic of Dong Son's Ca River, also close to Bai Coi. However, ceramic items found in these graves, including pots, vases, trays and bowls, typically feature Sa Huynh characteristics, indicating close bonds and regular cultural exchanges at the Bai Coi site.
"The excavation of Bai Coi has uncovered important traces of Sa Huynh culture in Ha Tinh, an intersection of Dong Son and Sa Huynh cultures. The region has a unique cultural identity revealed by this excavation of burial items," said Nguyen Van Doan, Director of the Vietnam National Museum of History. 
Unearthed objects at Bai Coi are on display at an on-going exhibition in downtown Hanoi. The exhibition will run at the National Museum of Vietnamese History till the end of April next year.  VOV5 

A unique exhibition in downtown Hanoi is featuring Bai Coi in the central province of Ha Tinh, a special archaeological site bearing the characteristics of the Dong Son (800-200BC) and Sa Huynh (1,000-200BC) civilisations.

An ancient tomb dating back 1,400 years has been unearthed in a field in the central province of Ha Tinh's Nghi Xuan District, archaeologists have announced.