The HCM City Summer Book Fair, which has opened in Hoc Mon District, is one of several reading events being offered during the summer.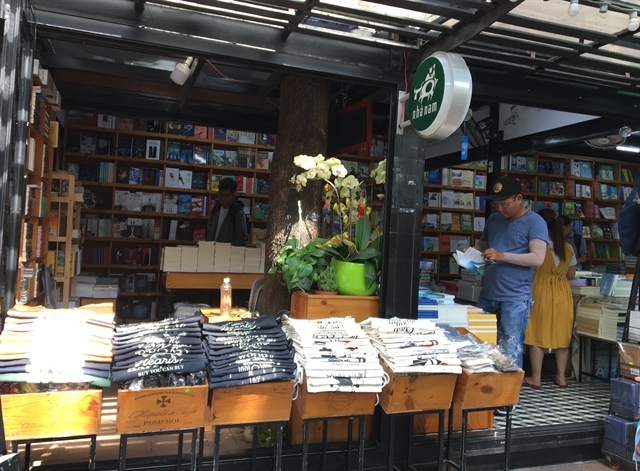 The Reading Cultural Festival opens on Nguyễn Huệ Pedestrian Street (Nguyễn Văn Bình Street District 1) today.
The event features more than 20,000 titles in various fields, including best-selling books published by leading Vietnamese and foreign printers, which are being sold at discounts of up to 50 per cent.
Featured are titles about events and heroes from different periods of the country's history.
One of the popular books is Lê Minh Quốc's collection of eight books on great Vietnamese men, titled Kể Chuyện Danh Nhân Việt Nam (Stories of Famous Vietnamese Men), a research work on outstanding people in politics and culture.
The work also features patriots and liberation soldiers during the wars.
Several books from Trẻ's bestsellers, written by veteran and young authors such as Nguyễn Nhật Ánh, are also on sale.
Promotional and cultural programmes have been organised to attract readers, especially young people and children, to the five-day event.
Another book fair will be also organised to serve rural children in Củ Chi District on June 5. The event will feature books, comics and magazines for children at a discount of 10-50 per cent.
Several hundred books will be presented to poor children who have had good results at school. Music and song programmes, traditional games and sports competitions will also be included during the six-day event.
Both events are free and organised by the city-based Book Distribution Company (Fahasa), a leading book distributor which offers 60 million copies of books per year.
Today, the Reading Cultural Festival opens on Nguyễn Huệ Pedestrian Street on Nguyễn Văn Bình Street in District 1.
Organised by the city's People's Committee in co-operation with the Department of Culture and Sports, the event aims to encourage young people to read.
The festival is displaying many old and rare books, documents and images about the city's history and culture. Books in the ethnic minority languages of Chăm and Khmer are also featured.
The event offers reading areas to serve visitors.
"Our event opens on Children's Day because we hope to attract children and teenagers, who often play video and internet games during the summer holiday instead of reading," a representative of the organiser said. — VNS