Former boxing champion Truong Dinh Hoang and his young teammate Vuong Thi Vy have set their sights on SEA Games gold medals.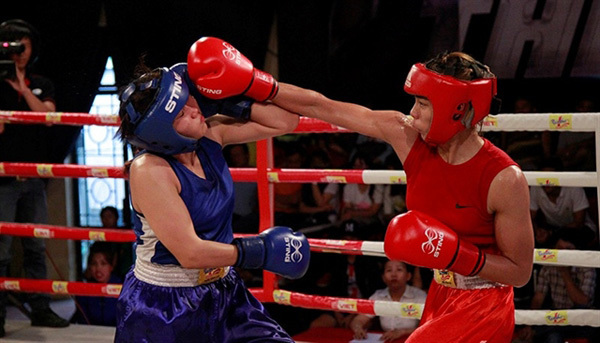 Vuong Thi Vy (right) is one of Vietnam's top boxers. She will seek her first SEA Games title in Hanoi later this year. Photo vothuat.vn
Hoang, who triumphed at the men's 75kg category in the 2015 Games, will fight in the 81kg class this year, while Vy is expecting to take her first gold at the regional event slated to be held in Hanoi this winter.
Hoang was tipped to win the men's 81kg tournament in the Philippines Games two years ago and easily advanced to the final, besting the host nation's John Marvin Nobel on his way there.
However, he unexpectedly lost to Thongkrathok Anavat of Thailand on points. His defeat was attributed to a mistake as he was confused between the rules of the World Boxing Association for professional athletes and the International Boxing Association (AIBA) for the amateurs, with the latter applied at the SEA Games.
AIBA does not support a defensive style in boxing but encourages fighters to go on the attack. Although Hoang performed well throughout the fight, he lost points for hugging and clinching.
The loss is the biggest regret of the first Vietnamese boxer to win belts of the World Boxing Association Asia and Asia East to date.
While his teammates are training at the National Sports Training Centre No 2 in HCM City, Hoang is working with his own crew at the Saigon Sports Club.
"At the club, I am working with three coaches following a strategic plan. The club managers also support me with the best nutrition regime and recovery after exercises," said Hoang.
He also said that the Saigon Sports Club provides him with plenty of quality sparring partners, both local and foreign, to help improve his abilities.
In preparation for the event, Hoang last month defeated Scottish fighter Mathew Cook Donald in the 'Celebrity Fights: Chef Edition' in HCM City. He will have another bout as a final test in July.
"Boxing against Donald was a good opportunity for me to test my skills after having no international fights in 2020 due to the COVID-19 pandemic. It was also one of my activities to prepare for the coming SEA Games," said Hoang.
"My biggest target this year is a gold medal. Nothing is impossible. I set my goal and will realise it," the 30-year-old said.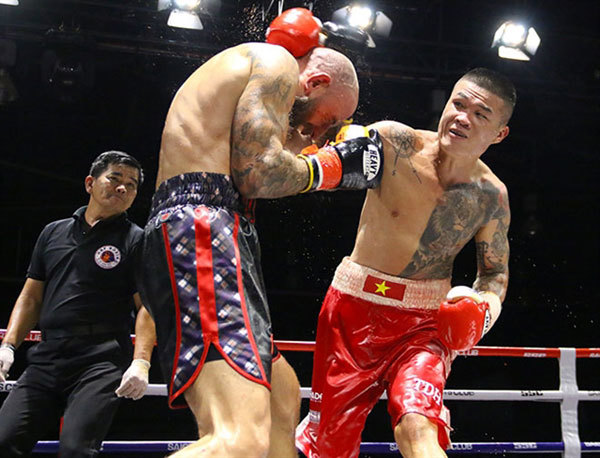 Truong Dinh Hoang (right) punches Mathew Cook Donald during their bout last month in HCM City. Hoang expect to find SEA Games glory in the next few months. Photo danviet.vn
On the women's side, Vy is back in action after two years of being busy with her new family and baby.
The 25-year-old is widely expected to win her first international gold after 10 years since her world youth championship title in the 57kg class in 2011.
Vy is still undefeated at the national level but the SEA Games is different and a big challenge lies ahead.
"Vy has good technique and physique. She also has the ideal form for boxing. She is a potential challenger for the title," head coach Dinh Phuong Thanh told Việt Nam News.
"But it will definitely be a tough task for her. Vy has not competed in any international tournament in two years. Her rivals are also very strong. Among them, defending champion Nesthy Petecio of the Philippines is also the world champion and No 2 in the world rankings," she said.
Thanh, who has worked with Vy for many years, has full confidence in her.
"Vy is one of the athletes considered part of the golden boxing generation especially after her world youth crown. But due to the lack of support, she has not had the chance to shine since then.
"At the most recent tournament that she took part in, we both believed that Vy could grab at least a bronze medal at the 2018 Asian Games but she failed regrettably.
"Now, it is different. Vy is back with strong determination. She has her target and aspires to win a SEA Games title. I believe that she will have a chance to win. I believe this year we will make it," said Thanh.
Talking about Hoang, Thanh said: "Hoang also has a chance. He is as good as other rivals in this pool but is in a disadvantaged position. He just trains in Vietnam and has not had many bouts since 2020".
"In elite sport, athletes must train and fight consecutively. Our athletes stayed at home and trained by themselves only while his rivals still took part in competitions.
"Rivals from the Philippines are now at the world level while Thailand is also really strong," she said.
Thanh, who coached Nguyen Van Duong to win a slot for the Tokyo Olympics last March, hopes her athletes will win two golds, especially the men who could secure only silvers at the previous Games. But she does not want to put pressure on them.
"Changing the colour of the medal is a task for the whole team, both coaches and athletes. I won't point out who will take the job because it may make them stressed. We all have to try our best," said Thanh.
VNS

Boxer Truong Dinh Hoang has dominated the defence of his World Boxing Association (WBA) Asia super middleweight belt in Manila, the Philippines.

Shadow Entertainment (Shadow Ent.) inked contracts with 15 professional Vietnamese and foreign martial artists in Ho Chi Minh City on June 12, with an aim of forming a professional martial arts model in Vietnam.