Nguyen The Hung is a familiar name for Vietnamese contemporary fine arts lovers, thanks to his attention to detail.
Artist invites viewers into his secret garden
French Cultural Centre hosts Nguyen The Hung's painting exhibition in Hanoi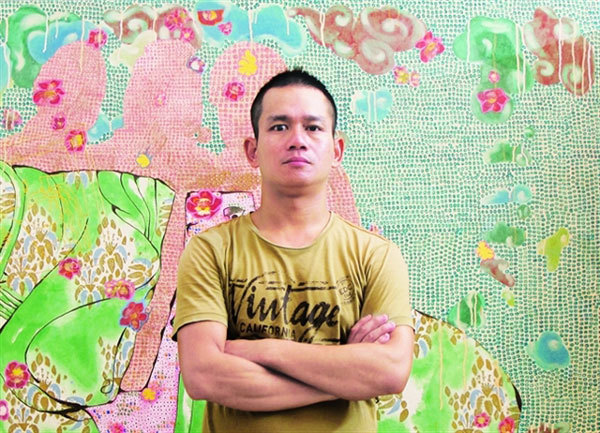 Painter Nguyen The Hung
After graduating in 2009, the painter from the northern province of Tuyen Quang has held 10 solo exhibitions and joined dozens of group exhibitions.
His paintings have appeared in various art fairs and private collections in the US, Australia, Sweden, the UK, New Zealand, Hong Kong, Singapore and Thailand.
He prefers to use traditional materials like dó (poonah) paper, gold-gilded technique, lacquer and Chinese ink to create works on modern topics.
He recently joined a working camp in the US and displayed paintings at a gallery there. Le Huong chats with him about the trip and his passion.

Could you talk about the art project that you joined in the US?
Vermont Studio Center is a prestigious art camp with long history in Vermont, the US. Every year, the centre calls for artists from all over the world in painting, graphics, sculpture and literature. I have known about the programme for few years but I had not paid much attention until last year, when I decided to apply and was selected.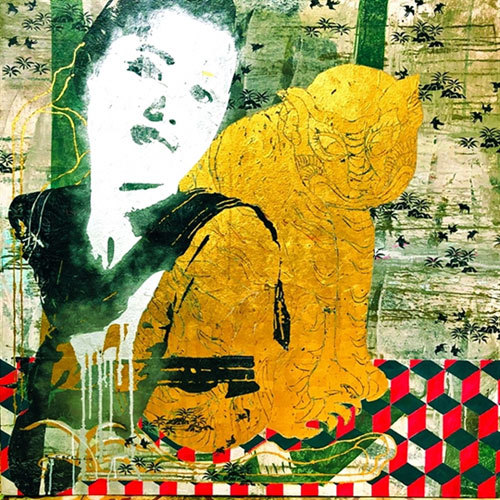 A lacquer on canvas by Hung displayed at his forst solo exhibtiion in New York. — Courtesy Photos of the artist
A month working at the centre was a fresh and interesting experience for me. I arrived in early March, when the snow covered everything. You may know that Vermont is famous for its skiing sites. Each artist stayed in a separate spacious and convenient studio near the residential area.
I worked at my studio every day like other artists. We always exchanged at art talks and went out for entertainment together at local bars, danced, sang karaoke and walked, or even skied at the weekend. I always visited the graphics room in the morning, where there were live models for painters to draw.
They organised two open studios, something like two small exhibitions, when artists take turns to visit one another's studio to watch art works and listen to creative ideas. We overcame all barriers of borders, age and languages to share ideas with one another.
Then you displayed your works at a solo exhibition in New York. Could you tell us more about the exhibition? Was it a success?
After Vermont Studio Center [March 1-23, 2019], I came to New York to open a solo exhibition at Salomon Gallery [April 3-24, 2019]. This is an old gallery in the bustling Tribeca area. I exhibited 23 works of lacquer on canvas, a material that I have used for the past few years. This was my first solo event in the US, so I was very excited to introduce Vietnamese ancient material to American audiences.
The event really attracted many locals. I have only a few friends in New York but many people turned up to the opening ceremony and during the exhibition, including artists, critics and art dealers. They viewed the paintings with attention and asked many questions of me. They were really interested in my paintings.
What style are you following? What are your frequent materials?
At present, I am following semi-abstract style and making lacquer works on canvas. To me, it's thorough research for the past five years to understand and conquer materials.
As you know, lacquer has always been worked on wood, which is difficult for transporting far and preserving. I was suggested to make lacquer on canvas by a senior painter. Then I decided to try.
At first, I was clumsy with the materials but the more I work, the more I find it interesting. I have better managed the materials.
I like traditional materials like dó paper, Chinese ink and lacquer and have strong impressions with decorative patterns and carvings at pagodas and temples. I don't know when the images first came into my paintings.
How do you get inspired for your work?
I always feel full of energy and recharged as I live in nature, especially during trekking with my friends. At my studio, I have a small garden, where I water plants and take care of them. Most of my inspiration has come from that.
What message do you want to send through your paintings?
Nature, human, dreams, strange lands, women, early morning fog and showers of flowers. I just simply describe the world in my mind to the paintings.
Many people have told me they feel relaxed and happy looking at my paintings.
My spirit belongs to love and happiness. I want to spread sprouts of love, optimism, happiness, relaxation and cheerfulness. Sprouts of good fortune fly all over my world and in my paintings.
What's your plan for the next few months?
I'm making a draft for a new series of paintings. I hope it will be completed in time for a new exhibition next year.
VNS