Music researcher Nguyen Quang Long speaks with reporter Bui Quynh Hoa about his dream to make xam (blind busker's singing) and other traditional Vietnamese music more accessible for young people.
Xẩm singing to mark Cultural Day
Worth listening, worth reading
Tell us a little about yourself
I'm Nguyen Quang Long, 43, a music researcher. I was born to a family which has a deep passion for traditional music in the northern province of Bac Giang.
I used to write about traditional music for big newspapers including Nhân Dân (The People), Tiền Phong (The Vanguard), Tuổi Trẻ (Youth) and Phụ Nữ Thành Phố Hồ Chí Minh (HCM City's Women), and some magazine including Âm Nhạc Việt Nam (Việt Nam Music) and Lý Luận Phê Bình Văn Học Nghệ Thuật Trung Ương (Letters and Arts Theory).
People know about me through my xam or blind busker's songs such as Bốn Mùa Hoa Hà Nội (Ha Noi's Four Seasons of Flowers) and Tứ Vị Hà Thành (Four Delicacies of the Capital).
Your love for traditional music seems to come naturally. How did you come to fall in love with it?
As I said, I was born into a family where both my parents have a deep love for music. My father's friends were famous artists in quan họ (love duet singing) and used to come to our home when I was very young. They sang quan họ everywhere they could. At that time, that kind of music was very popular in the north. Many, many people loved it. And so did I. My love for traditional music grew more and more, naturally.
After high school, I decided to take part in the Viet Nam National Academy of Music to study vocal performance for four years and then musicology for four years.
Since the beginning, traditional music has played a very important and significant role to my life. And now I know I want to devote my whole life to it.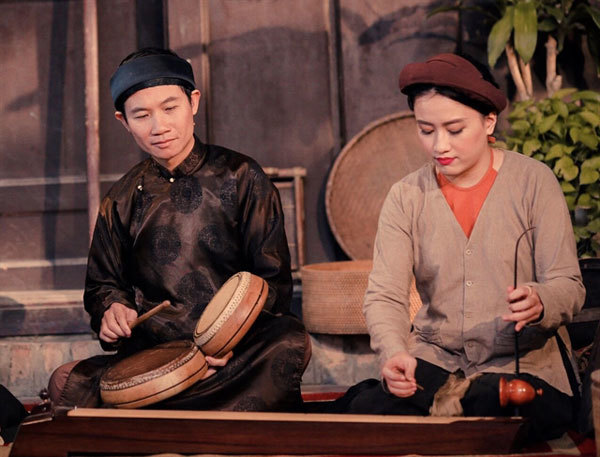 Music researcher Nguyen Quang Long (left) performs in the music video for the song Tuong Tu (Love Sick). Photo Vu Lam
Talking about you, we can't help but mention Xẩm Hà Thành. Could you tell us about the group?
I fell in love with blind busker's singing when I accidentally met artist Thao Giang in 2005. He talked about traditional music, especially xẩm, and his plans to preserve it. He made me curious about it and step by step I came to love it. We worked together closely and released an album titled Xẩm Hà Nội in January 2006. We were so happy when it was well received.
Since then, we've studied the genre more deeply and devoted ourselves to preserving and developing it widely in Hanoi. In 2009, musician Mai Tuyet Hoa and I set up our own xam group, and Xẩm Hà Thành was born.
Preserving and developing the cultural values of Vietnam through traditional music is hardly the quickest way to get rich. Why have you devoted your life to it? Does your family support your choice?
It's my passion and I want to spend all my time on it. In fact, it's easy to see that xẩm has appeared everywhere. People love it, even young people. They establish their own xẩm groups. Before 2005, it was just a dream, but now it's a real phenomenon. This is the reward for all our long days of hard work, and it can't be assigned a monetary value.
Luckily, my family has supported me the whole way. They've come along with and whenever I have failed or succeeded they have shared those moments.
After many years trying to make xẩm accessible for the youth, what do you think about their reaction?
Young people are the largest audience of Xẩm Hà Thành. They are ones that we want to target.
In fact, traditional music is not for the masses. We need to accept that it attracts small audiences, but they are very passionate. Each time we organised events highlighting traditional music and xẩm, at least 50 spectators attended, including many young people.
Times and living space have changed so traditional music cannot become very popular at present. But I think we should create a specific space for traditional music genres. Furthermore, preferential policies for traditional arts and groups of artists are also needed.
Along with preservation, what should we do to bring traditional music closer to young people without losing sight of its origins?
It's crucial to thoroughly learn the origin and the spirit of the different types of traditional music to properly innovate. It's not easy.
Honouring veteran artists is also necessary to encourage them to inspire younger generations with their love of traditional music.
How important is it to have people who are enthusiastic about inspiring others?
In my opinion, this is the most important factor to make traditional music accessible to young people.
Music researcher Nguyen Quang Long speaks with reporter Bui Quynh Hoa about his dream to make xẩm (blind busker's singing) and other traditional Vietnamese music more accessible for young people.

We are gradually developing a community of lovers of traditional music. The spread of xẩm has been encouraging recently with the creation of many clubs nationwide. Veteran artists including Professor Pham Minh Khang, Thao Giang, People's Artist Xuan Hoach, Thanh Ngoan and Mai Tuyet Hoa have worked hard to bring their love of folk culture to the young people.
Xam Ha Thanh has also focused on bringing in new elements to enrich xẩm and other traditional arts.
Do you believe traditional music will continue to attract more young audiences?
Sure. Traditional music is the spirit of Vietnamese culture.
In order to make it more popular, strategies on training outstanding artists, researching the art forms and raising knowledge about traditional and contemporary arts among audiences are necessary.
We should develop useful projects and practical activities to reproduce spaces for traditional culture to live and create favourable conditions for young people to learn. Conservation work only focuses on keeping historical values. If its living space is lost, traditional music will fall into oblivion.
What are your plans in the future?
2019 is significant for Xẩm Hà Thành and for me personally. This year marks the group's 10th anniversary. It's also 20 years since I chose musicology as my path.
In order to celebrate the group, we plan to organise a live show in August and release an album titled Xẩm by Mai Tuyet Hoa as well as an album by the group. We are also finding support from other organisations to hold another xẩm night in HCM City.
VNS