Doan Thu Thuy, who runs a construction company, is also an owner of a chain of restaurants offering Vietnamese traditional cuisine.
Its menu boasts a wide range of signature dishes from Quang Nam province, where she was born, to the south western region, where she used to live.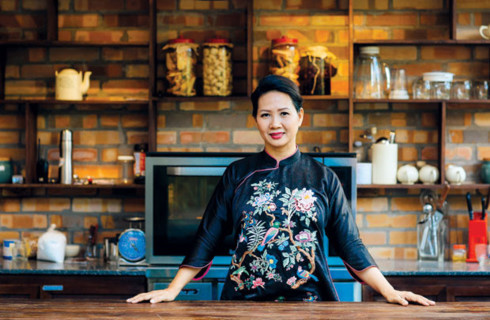 Ms. Doan Thu Thuy (Photo: doanhnhansaigon.vn)
This versatile businesswoman has been working hard to promote Vietnamese cuisine.
Thuy's initial job related to construction instead of cooking. However, she always spent her free time learning about cooking after her long days at work. Her passion for cooking has always been strong since she was a little kid, observing her grandma and mother making delicious meals.
It was not until Thuy was qualified as one of the top 3 Masterchefs Vietnam 2014 that she decided to open her first restaurant featuring homecooked dishes from Quang Nam province. Following its success, she established two more restaurants, offering signature dishes of several provinces and cities in Southern Vietnam.
The decoration of her restaurants reflects the culture of the places that the dishes come from. Daily meals featuring stirred zucchini blossoms with garlic, corn sweet soup, and sizzling cakes are modified to Western style but stay true to their essential flavors.
Thuy said she chooses the fundamental dishes of Vietnamese cuisine in certain regions, making sure that whenever the customers have meal at her restaurants, they feel like they are eating in their hometown.
"I believe that all Vietnamese love our cuisine because of the importance of food in our culture. The first taste of Vietnamese cuisine will be with us forever. Nowadays, there are many restaurants offering Japanese, Korean, and Western dishes. But I still want to specialize in traditional dishes of Vietnam since it's what I love the most", said Thuy.
Being a detail-oriented person, Thuy wants to make Vietnamese customers feel like they are traveling back time once they step inside her restaurant. Interior decoration, flower arrangements, and the old style of bowls and dishes, all remind them of the old days.
No matter how busy Thuy is, she always creates the recipes and writes articles herself to introduce her dishes as she believes no one can understand her feelings for the dishes better than she can. Her chain of restaurants has attracted not only local people but also foreign customers. Her restaurants are highly recommended on international food blogs and websites.
Nguyen Cong Danh, the manager of Thuy's restaurant specializing in Vietnamese dishes from 6 different provinces in Southern Vietnam, said "Ms. Thuy also dreams of promoting Vietnamese cuisine from still more regions in Vietnam. I believe that she can do it because she always does everything with her whole heart."
Even with her work in construction, running 3 busy restaurants, and taking care of her family, Thuy is still devoted to community work. She shares her love for Vietnamese cuisine by writing cook books with detailed recipes, and establishing her own Youtube channel to teach cooking for free.
Following the success of her cook books themed "Ms. Ba's journey through Vietnamese dishes' and 'The path to happiness', Thuy plans to introduce a new book called 'Sweet memories', featuring lesser known traditional Vietnamese cakes by the end of this year.
Nguyen Hong Quan in Go Vap district, Ho Chi Minh City is one of those interested in Thuy's recipes. He said "The recipes Thuy shared are really useful for me. I learned a lot about Vietnam's traditional cuisine. It's such a pity that some of those dishes are not popular today. I hope that Thuy can continue to introduce Vietnamese culinary arts to the world."
Thuy said that she will visit the Northwestern region of Vietnam in the next few weeks to learn more about the traditional dishes there. She will also upload more videos on Youtube to instill a love of cooking and Vietnamese cuisine into a wider public.
VOV5