HCM City's Tran Huu Trang Theatre in co-operation with its partner, the city's Department of Culture, Sports and Tourism, will launch two projects offering cai luong shows in the city and neighbouring provinces next month.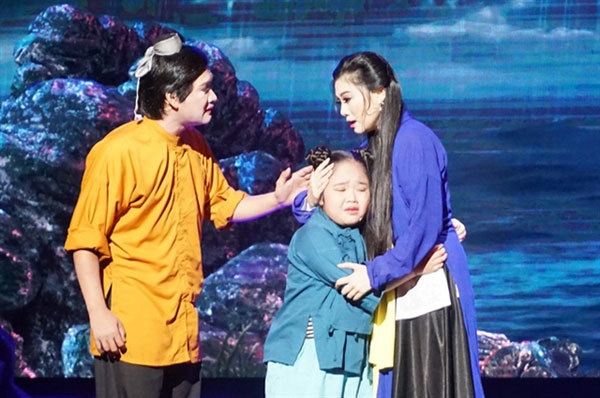 Artists from the HCM City's Tran Huu Trang Theatre perform on stage. — Photo courtesy of the theatre
The event's first project will offer a series of famous plays written by Tran Huu Trang and Vien Chau, two of the region's foremost artists of cai luong (reformed theatre). 
One of the highlighted plays is Đời Cô Lựu (Mrs Luu's Life), a production by Trang first staged in the 1930s by cai luong pioneers Nam Chau, Phung Ha and Ut Tra On.
The play portrays Luu, a Vietnamese woman, and her challenges and sufferings under the feudal society in the south.  
Its new version is expected to attract dozens of young artists of the theatre, such as Vo Minh Lam and Le Tu.   
Its second project will introduce talk shows about the life and career of Trang and Chau. 
"We began to hire staff and investment for the two projects last year. Our artists are working to perfect their performance and their first show is expected to open on April 1," said Phan Quoc Kiet, director of the Tran Huu Trang Theatre, the region's leading cai luong theatre, which was named for artist Trang.  
"Playwrights Trang and Chau were the pioneers to feature women as leading characters in cai luong. Though they have passed away, their plays are still alive among Vietnamese audiences, particularly southerners," said Kiet. 
Trang was born in 1906 to a farming family in Cho Gao in My Tho Province (now Tien Giang).   
He began his professional career in 1928, working for leading troupes in the south. In the 1930s, Trang was at the peak of his artistry and fame, trying to put his new ideas in serious plays such Lan Và Điệp (Love Story of Lan and Diep) and Tìm Hạnh Phúc (Seeking Happiness). 
After the August Revolution in 1945, Trang joined the revolution and worked in Sai Gon-Cho Lon. He was a member of the National Front for the Liberation of the South.  
He created more than 30 works and all feature Vietnamese characteristics. Most of them have been recognised as canonical cai luong and have been staged many times by different generations at home and abroad.
He died in 1966 in battle. His body has never been found. For his contributions, he was awarded the Ho Chi Minh Prize by the Government in 1996. 
Late People's Artist Chau, real name Huynh Tri Ba, was born in 1924 in Tra Vinh Province in the Cuu Long (Mekong) Delta River Region. He was hailed as the "King of vọng cổ (nostalgia) songs". 
He wrote 2,000 vong co songs and more than 70 cai luong scripts. He played the zither, violin and guitar.
In 2014 he was awarded the Labour Order, third class, for his contributions to the development of tai tu music, a traditional genre of southern theatre.
Many of his vong co songs are familiar to generations of Vietnamese. 
He also taught many cai luong artists, including People's Artists Ngoc Giau and Bach Tuyet.
He died of natural causes at his home in 2016 in HCM City. 
VNS

Australian-Vietnamese theatre actress Thanh Hang, a veteran of cai luong (reformed opera), will perform in a mini show in HCM City celebrating her 40-year-long career. 

HCM City's Tran Huu Trang Cai luong Theatre, one of the region's leading traditional art troupes, will open an exhibit hall featuring information and images about cai luong