Cambodia's diverse culture will be showcased through a variety of art activities during 'Cambodia week' being held in the southern provinces of Can Tho and An Giang.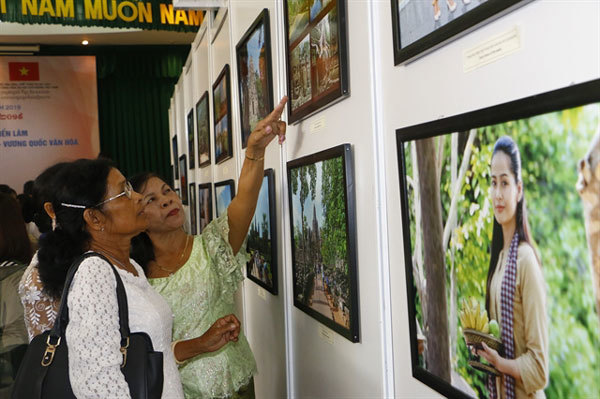 The photo exhibition Cambodia - The Kingdom of Culture, held at Can Tho City's Museum, showcases Cambodia's culture, nature and people to Vietnamese viewers. — VNA/VNS Photo Nguyen Thanh Liem
Jointly held by Vietnam's Ministry of Culture, Sports and Tourism and Cambodia's Ministry of Culture and Fine Arts, 'Cambodia week in Vietnam' is a highlight in the implementation of the cultural and art cooperation plan in 2018-22 between the two nations.
The event will include art performances by Cambodian artists and exhibitions displaying photos, costumes and handicraft products of the country.
Addressing the opening ceremony that was held on November 19, Secretary of State at the Ministry of Culture and Fine Arts Menh Kossony confirmed that Cambodia highly appreciates the cooperation with Vietnam, particularly the cultural exchange programmes between the two nations that serve as a major channel to introduce Cambodia's culture to Vietnamese people and enhance mutual understanding.
'Cambodia week in Vietnam' is a meaningful and practical activity to implement the cultural and art cooperation plan between the two countries in the 2018-22 period, she added.
According to Vietnam's Deputy Minister of Culture, Sports and Tourism Ta Quang Dong, Vietnam and Cambodia have a long tradition of solidarity and cooperation.
"Over half a century since the establishment of diplomatic ties, we are glad to witness the blossoming of relations in various fields, reaching many major achievements in politics, economics, culture and education, and bringing practical benefits to both Vietnamese and Cambodian people," he said.
The official also stressed that such cultural exchange programmes should be held more frequently to promote solidarity, mutual understanding and contribute to developing the socio-economy of each country.
He expressed his belief that 'Cambodia week in Vietnam' would continue to elevate Vietnam and Cambodia's relations to new heights and open new mutual cooperation potential in the future.
Earlier, the exhibition Cambodia-The Kingdom of Culture, kicked off at Can Tho City's Museum, showcasing photos of the country's tangible and intangible heritages, the beauty of nature and the hospitality of Cambodian people.
The exhibition also introduces to the public traditional cultural and art objects like musical instruments and masks.
'Cambodia week in Vietnam' will conclude on November 23.
A contemporary photography exhibition by 12 emerging Southeast Asian photographers will be held at Matca Space for Photography in Hanoi from October 11 to November 4.

Over the past three decades, many Vietnamese women officers have volunteered to work in Cambodia, contributing significantly to the reconstruction and development of the country.
VNS