Hoa Village is home to Black Thai people, with stilt houses made of cement and metal frames resembling those in Doi Village.
My friend and I were taking a leisurely walk one day just recently along a path in Doi Village in the northern province of Son La, the immense fields of white plum flowers, dotted with the light pink of peach blossoms and pretty yellow of sunflowers, uplifting our souls.
We then came across a group of local ethnic Black Thai women, who were putting on make-up and chatting in front of a house.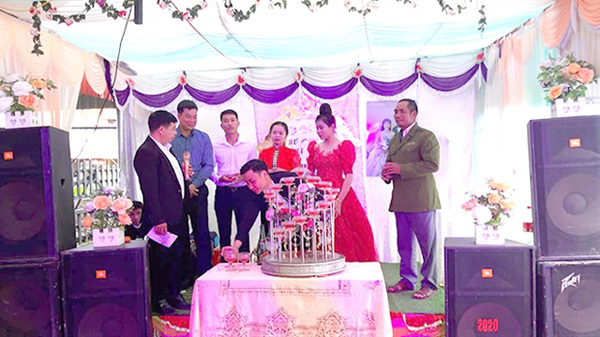 Villagers now wear Western clothes when getting married. Photo thethaovanhoa.vn
"Hello!" I called out in greeting, "Why are making up yourselves so beautiful?"
"We're going to a wedding," one answered. "Would you like to join us?"
"Really, can we come?" I asked.
They were willing to take us along, so we agreed.
The village was located in Tan Son Commune in Moc Chau District, some 30km from the district centre.
It backs on to a white stone mountain, with white stone being "đàn dói" in the ethnic language. Its name should actually be "Dói" Village, but over time it's become "Dọi".
White Thai people have also been living here for 200 years. Doi Village is split in two, with Doi Village 1 being the home of the White Thai minority and Doi Village 2 now inhabited by the Black Thai, who were resettled here from Muong La in 2003, when their home was flooded by the construction of the Son La Hydro-Electricity Plant.
Both the White and Black Thai share the same language, ways of farming, certain religious concepts, and customs, though they have some distinctive differences.
Doi Village has been turned into a tourism village, with six homestays in Doi Village 1. A communal road runs between the residential area of the Black Thai and that of the White Thai.
We rode a bike to join the group of women heading to the wedding in Hoa Village, some 2km away.
Hoa Village is home to Black Thai people, with stilt houses made of cement and metal frames resembling those in Doi Village.
The wedding was quite similar to a wedding of Vietnamese Kinh ethnic majority in cities.
There was a tent with loudspeakers, an MC, a live band, and singers. The bride and groom wore a Western-style suit and white dress.
Practices included pouring pink wine into glasses and inviting guests to drink, who right after broke into chants of "Kiss, kiss!"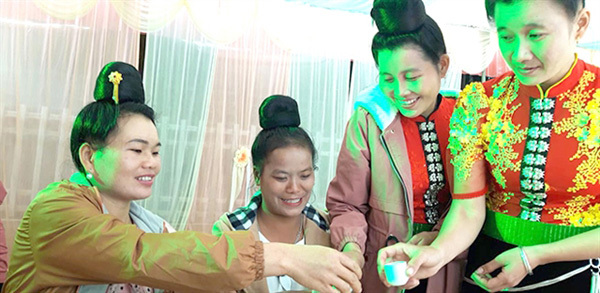 BOTTOMS UP: Thai women making toasts at the wedding party. Photo thethaovanhoa.vn
But a careful eye confirms that special local customs endure.
During the wedding party, groups of married women (who can be identified by their hair buns high on top of their heads) go from table to table with glasses of wine to make toasts. They use any reason at all to encourage people to "bottoms up" ("au hảnh" in the Thai language) and empty the glass.
Rarely does one see men coming around to toast, as they are busy in the kitchen, cooking and serving food.
Women are at leisure on such big days. They welcome guests, invite them to drink wine and also dance until the party ends, when the men come around to clean up.
Each wedding party normally lasts from 9am to 3pm.
I got the sense that Thai weddings are especially dedicated to women, who on a normal day are busy farming from dawn to dusk on the fields, raising domestic animals, then cooking in the kitchen, and taking care of their family.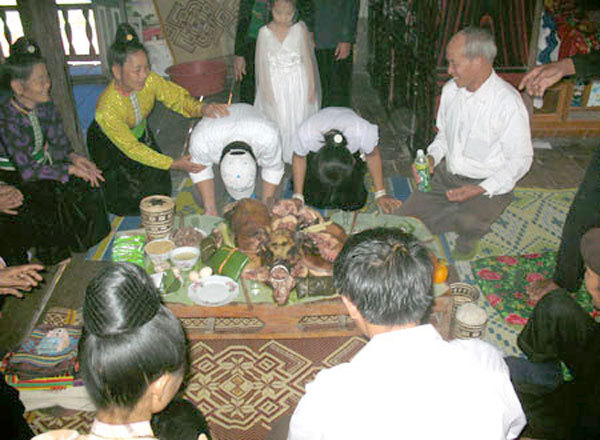 TRADITION: The young couple bow at a ritual within their wedding ceremony. Photo dulichmocchau.net
Only at weddings or festivals are they free to let their hair down, so to speak, revelling in equality and a love of life. Their beauty is revealed in their many folk dances and songs.
The two families of the bride and groom take great care in the preparations for a wedding.
The groom's family is responsible for the wedding party, slaughtering several pigs and cows, and cooking different kinds of foods. 
Some particular parties may feature up to a hundred tables of eating guests, and may last one or two days, gathering the whole village together.
Dishes are placed on big banana leaves on tables or mats. Men not in the kitchen sit opposite women. As they get drunk, they may sing in duets. They can compose new lyrics for old melodies on the spot in response to each other.
A single wedding party may consume 30-40 jars of home-brewed wine, each containing 30 litres.
Thai women drink no less than men. Drinking "traditions" have changed over the years and decades. There was a time when if someone refused an invitation to drink, the host would pour wine over their clothes or even their heads. The practice faded away some time ago, much to the relief of teetotallers.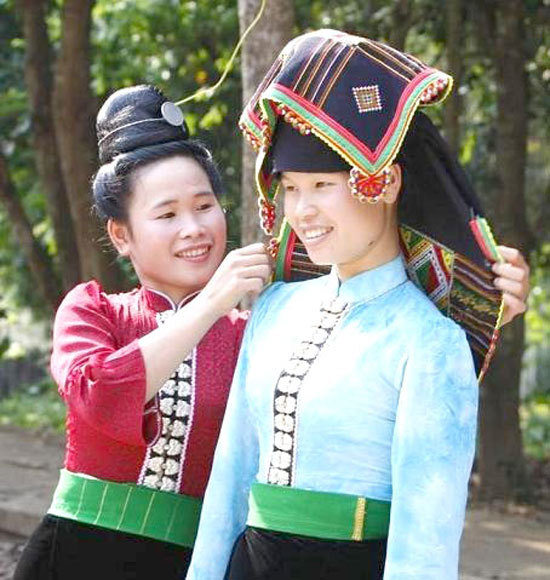 WOMEN'S DAY: Weddings seem to be dedicated to Thai women, who are free to drink, dance and enjoy themselves while the men take care of the food and drink. Photo nghiencuulichsu.com.vn
At the wedding I attended the bride's parents and relatives prepared a room packed with gifts for her, including 55 head scarves, 55 pillows, three mats, three blankets, one motorbike, one washing machine, one TV set, one wooden wardrobe, one set of wooden table and chairs, and a couch.
The furniture and other items are for the newlyweds, while the scarves and pillows are for the groom's parents and relatives.
Villagers made their own pillows in the past, but it's now easier to buy them. The gifts totalled some VND50 million (US$2,200) at this particular wedding.
The groom's family don't prepare anything for the newlyweds, instead giving the bride's family 100 dishes of food and 150 litres of wine in addition to having their own party at home. Each party can cost around VND50 million, which is why weddings can be a problem for poor families with adult sons.
Many take on a loan, which is then gradually repaid by the young couple and their parents.
Guests often present VND100,000 ($4.3) or so as a gift to the bride and groom, which is just enough to cover their meal.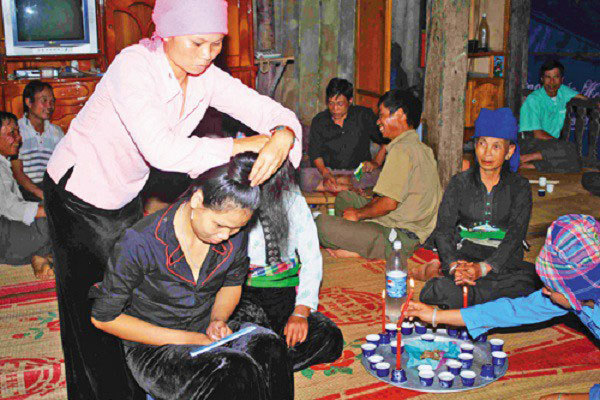 FESTIVE FUN: People prepare for the wedding. Photo vovworld.vn
One rather alarming feature of Thai weddings is the young age of the happy couple. The groom was 18 and the bride just 17 at the wedding I attended, which means she had dropped out of school to marry.
It was common to see a young couple in the village with two or three children, accompanied by grandparents who were barely in their 40s.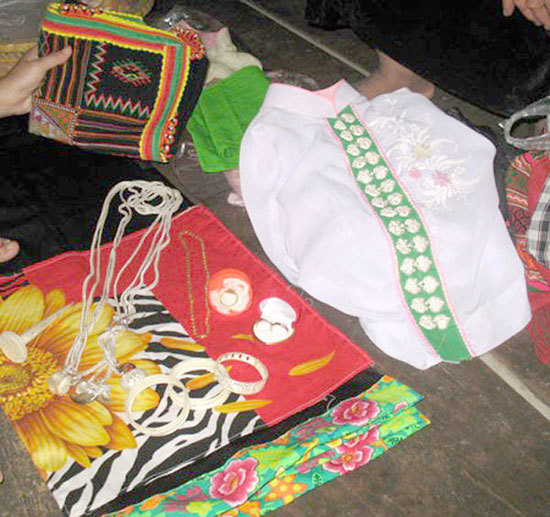 EXCHANGE: Gifts prepared for the bride to take to the groom's home. Photo vovworld.vn
According to a local official, teenagers think about getting married while at high school or even junior high, and it's all perfectly acceptable among locals.
"Some really young couples hold a wedding first and then register the marriage later, when they're old enough," according to village chief Lo Van Phan. "Others wait until their first child is three years old before registering." 
Van Gia (VNS)

Thai people have still observed a singing custom at weddings called "khap xong khuoi, ton pau" which means singing to bid farewell to the son and welcome the new daughter in-law.

Tong Van Han has spent more than 20 years researching and preserving the cultural values of the Thai ethnic minority, particularly the Black Thai.