A young, talented dancer-choreographer who has worked at Konzert Theater Bern in Switzerland and won many honours, Vu Ngoc Khai, has decided to return to Vietnam after 13 years in Europe. 
Khai spoke about his inspiration to bring the soul of contemporary Vietnamese dance to the rest of the world.
Artist debuts new work at dance festival
Hanoi Dance Fest enchants audience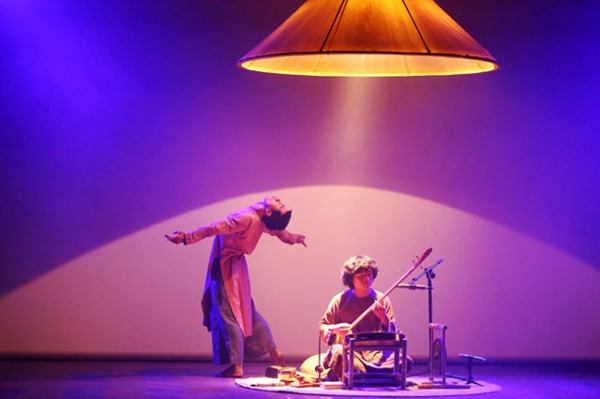 A scene from Nón (Conical Hat), which was praised by audiences at an event on European development in Luxembourg. Photo baodansinh.vn
Choreographer Vu Ngoc Khai worked at theatres in Germany including Volkstheater Rostock, Staatstheater Braunschweig, Staatstheater am Gaernerplatz, Conny Jassen Danst and Danceworks Rotterdam in the Netherlands, as well as Arabesque in Vietnam.
He also took part in international projects between Vietnam and Italy and Belgium including Hanoi Stardust and Mishina. In 2006, Khai's dance Nón (Conical Hat) was praised by 300 audience members including ministers and ambassadors at an event on European development in Luxembourg. Recently, he choreographed and produced Đáy Giếng (Into the Well) to present at the Hanoi Dance Fest 2019.
He is also the art director and co-founder of the 1648km Art Performance & Community Organisation.
Your latest dance, entitled Đáy Giếng has impressed audiences at Hanoi Dance Fest 2019. What can you tell us about it?
The work is inspired by the language and movement in traditional dances. My co-worker Quynh Chi and I have studied buffalo and rooster fighting festivals and Tay Son battle drum as well as other traditional activities to incorporate into the work. I also put images close to my childhood into Đáy Giếng. Through this, I could see the round sky, square earth and communal house yard and imagine the activities of my family members.
I also invited folklore drummer Nguyen Thanh Nam and veteran trumpeter Nguyen Ngoc Khanh to join my performance. Both artists have rich experience from their work at theatres and their families.
The work lets audiences experience the feeling of sitting at the bottom of a well looking up to the sky, going through the darkness to come to brightness of the sun.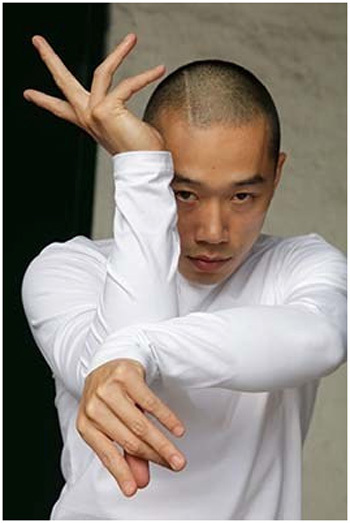 Choreographer Vu Ngoc Khai. Photo nhahatnhacvukichvietnam.com
Critics have noted that your works always feature traditional aspects of Vietnamese culture. What are you trying to say through your performances on international stages?
The farther I go, the more I miss and love my roots.
I want to tell a story about my country and its culture to my friends around the world through the language of contemporary dance and traditional music.
I want to make a contribution to preserve and uphold the beauty of Vietnamese culture.
The most exciting thing for me is that I have the honour to share Vietnamese culture and emotion. It's a wonderful thing for an artist, especially when he or she performs internationally.
Đáy Giếng opens a new period in your work after returning to Vietnam to develop your career in contemporary dance. What's your plan for the near future?
Yes, I decide to come back to work in Vietnam after 13 years studying and working in Europe. Vietnam has changed a lot, becoming more beautiful and attractive. It gives me new inspiration to preserve Vietnamese culture.
I'll be a freelance contemporary dancer. Along with choreographing, I also want to focus on teaching.
Furthermore, with the aim of bringing disadvantaged children the experience of discovering their own beauty, in collaboration with foreign choreographers I have set up a non-profit volunteer project called Từ Tôi Đến Bạn (From Me to You). Being a choreographer, I learn about the body and appropriate its movement – how to walk, stand, lie, sit, fall and breathe. The project is ongoing throughout the country with the collaboration of many local and international choreographers.
This summer, artist Christopher Boyd from Belgium, contemporary dancer Ichi Go from Germany and I plan to hold workshops on contemporary dance in Hanoi, Da Nang, Hoi An and HCM City. We consider this an interesting experience but also a challenge and a chance to work with special children.
Now that you have returned, is it more important to you to be a well-known choreographer who wins lots of prizes or an artist who focuses on his community?
I prefer both. I've been a professional artist for 22 years. I want to find myself embracing contemporary dance. I also want to bring the art closer to more parts of society, especially disadvantaged ones.
Working with them, I have more chances to learn from people who may be disadvantaged in one field but are special in another area.
I know there are a lot of challenges, but I wanted to come back to Vietnam to work on the art and preserve it. I want Vietnamese audiences to be the first to enjoy my efforts. VNS
Tra Giang